Whether you had your dream wedding thirty years ago or eloped in a small ceremony two years ago, Hawaii is the perfect place to renew your wedding vows. If you are planning a romantic vacation to Hawaii, why not use the backdrop of the beautiful sunsets and sandy beaches to renew your vows?
Why do a vow renewal?
A vow renewal is a great way to honor and celebrate your marriage and your commitment to each other. It could be a way to celebrate a milestone, such as one year, five years, ten years, etc. Or it could be a way to honor your commitment to each other after a rough patch. Or maybe your children are finally off to college, and you want to re-focus on each other. Honestly, though, you don't need a reason to renew your vows – all you need is a desire! I think that Hawaii is the perfect place to have a vow renewal. If you are planning a trip to Hawaii and are thinking about having a vow renewal, read on because I have many ideas for you to get you started.
How does a vow renewal work?
During a vow renewal ceremony, you will say the vows you said on your wedding day again, with an officiant to perform the ceremony. A vow renewal ceremony isn't a legal ceremony, and it doesn't change your marriage. It is just a nice way to reaffirm your commitment to each other. Sometimes it's nice to be reminded of those vows you made on your wedding day when life gets busy and we don't have time to focus on our spouse. Anyone can perform the ceremony. It could be a friend or relative, or we at Hawaii Aloha Travel could help you coordinate an officiant. You can invite friends and family. Or, since it's not a legal ceremony and you don't technically need witnesses, you could keep the ceremony intimate, just the two of you. Or maybe you don't need an officiant. Head to a beach together, read your vows, and look into each other's eyes. You can get dressed up, or you could wear casual beachwear.
What it comes down to is – this is about you, and your spouse, so do what works for you. Here are a few of my favorite options to get you started.
Kailua and Lanikai Beaches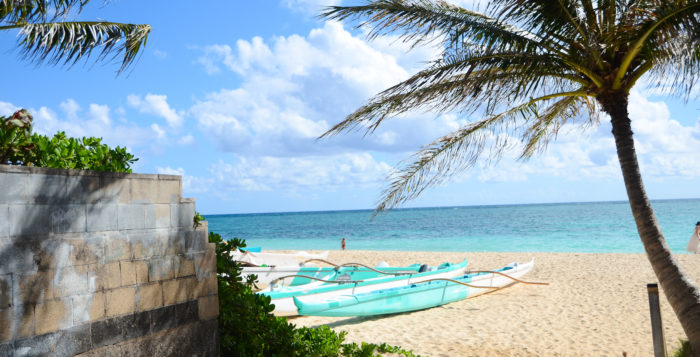 Do you embrace the early morning hours? I think that Kailua and Lanai beaches offer the most exquisite sunrises throughout the entire island. Rise early, make your way to the shoreline, and kickstart your day with the breathtaking sight of the sun ascending above the horizon, accompanied by the soothing melody of the ocean waves. Despite their growing popularity over the years, these beaches often maintain a tranquil atmosphere during the early hours. Kailua is a charming beach town brimming with delightful coffee shops, restaurants, vibrant farmers' markets, and diverse shopping options. Moreover, you'll find numerous opportunities to rent kayaks, snorkeling gear, and bicycles for convenient exploration of the town. So, plan a full day of adventure in Kailua, followed by a return to the beach to indulge in the ideal water sports conditions that these waters have to offer.
Mount Tantalus
If you want a different view than the beach for your vow renewal, I have a great suggestion for you. Mount Tantalus is a tall mountain in Honolulu that you can drive up. Take the drive and have a vow renewal ceremony while overlooking panoramic views of Diamond Head and the beautiful city of Honolulu. And of course, in the distance, you will see the beautiful crystal-clear water. This beautiful lookout point is rarely crowded, so you can have the intimacy you crave. Enjoy the beauty of the city from above. There are also picnic areas for you to enjoy some quiet time together after your ceremony.
Halona Cove
Halona Cove, also known as Cockroach Cove, is located on the southeast side of the island along the Ka Iwi Coast. It holds special significance for both families and movie/TV enthusiasts because Hollywood has frequently utilized this location as a backdrop for many years. There's a small cave you can enter, providing an excellent opportunity for a memorable photo or, for those seeking more seclusion, an ideal spot for a private vow renewal ceremony. This location is perfect if you intend to conduct your vow renewal on your own. While it may not be suitable for larger commercial ceremonies, it serves as an excellent choice for couples who desire a secluded and intimate setting to exchange their vows.
Maunalua Bay Beach Park
If you're seeking a beautiful location for a sunset vow renewal ceremony, I highly recommend this spot in Hawaii Kai. This park features a picturesque stretch of beach and offers breathtaking views of the Pacific Ocean, with Diamond Head Crater in the distance. Numerous wedding photographers favor this location due to its stunning vistas and excellent lighting. This setting is perfect for a more intimate vow renewal ceremony, whether you choose to do it alone or with an officiant.
Sailing Trip
Are you a fan of the ocean? How about renewing your vows out on the open waters, with the picturesque island of Oahu as your backdrop? Numerous boating companies offer enchanting vow renewal experiences. Consider embarking on a sunset dinner cruise, where you can reaffirm your love while witnessing the sun gracefully descend into the ocean's embrace. During the winter months, keep an eye out for the majestic sight of whales. Following your vow renewal, take a leisurely stroll along the beach and enjoy a refreshing beverage while gazing out at the water. I'm all for exploring creative options, and while a sailing excursion or boat ride may not offer the same level of privacy as a beach ceremony or a ceremony on Tantalus, it promises a lot of enjoyment and adventure! We have a roster of tour companies that we're familiar with and trust to assist you in bringing this unique experience to life.
Ko Olina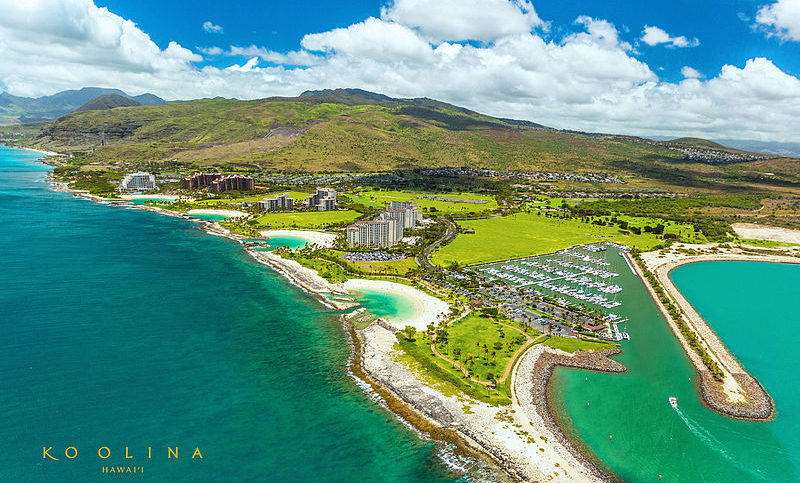 People are drawn to Ko'Olina on the west side of the island because it offers a more tranquil and secluded escape. Despite its distance from the bustling city of Honolulu, Ko'Olina provides a wealth of activities, ranging from serene lagoon swimming to shopping and dining experiences. Furthermore, Ko'Olina boasts numerous luxurious resorts and amenities. The pristine, calm waters and secluded beach coves of Ko'Olina are renowned for being less crowded than those in Waikiki. Disney enthusiasts often find joy in Aulani, Disney's resort on Oahu, while the most discerning travelers discover everything they desire at the Four Seasons Resort Oahu at Ko'Olina. If your budget permits, indulging in a retreat at one of the resorts in Ko'Olina may be the perfect setting for your vow renewal ceremony.
Sunset Beach (North Shore)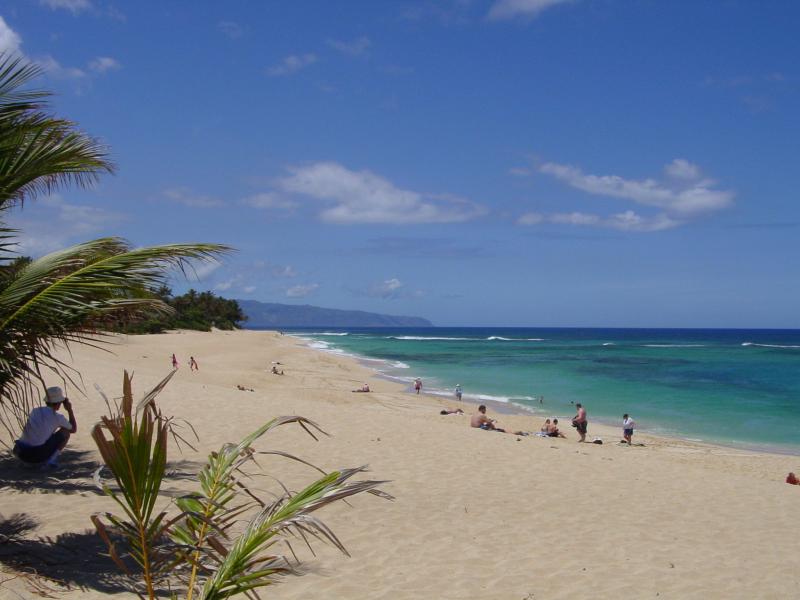 Sunset Beach graces the north shore of the island, conveniently situated approximately 10 minutes from Turtle Bay by car and just over an hour from Waikiki.
As its name aptly suggests, Sunset Beach offers some of the most stunning sunsets on the entire island. Opt for a simple sunset ceremony if you wish to renew your vows in this idyllic setting. Here, you'll find no resorts, only the serenity of a pristine beach. Even if you decide not to hold your vow renewal here, it's still an excellent spot to pause and witness the breathtaking sunset. During the winter months, surfers gather here to challenge the formidable waves, creating a spectacle unlike anything you've ever witnessed before. It's truly an awe-inspiring sight. While many beautiful beaches on the North Shore would make for a lovely vow renewal location, I highly recommend Sunset Beach due to its exceptional beauty.
Your Resort
Many hotels offer vow renewal ceremonies to their guests for a reasonable price, or even for free. The North Shore of Oahu is a great place for vow renewals because there are so many beautiful beaches. Turtle Bay is the only resort on the north shore, so that would be my first pick. This is where you will get amazing sunsets and fewer people than the other parts of the island. I have stayed there a few times with my wife and, to me, it's the most romantic resort in Oahu. Because it's smaller and a bit tucked away from the crowds, it feels more intimate. Plus, there are a variety of restaurants to choose from. The restaurants on site give you a beautiful view of the ocean and offer island-fresh food in a romantic and intimate setting. Turtle Bay has a "secret beach" where you just might be the only people around. That's what I call romantic. Stay in one of their rooms overlooking the water to make it feel even more special. Known for romance, Turtle Bay is known for catering to weddings, honeymoons, and vow renewals, so you know you will be in good hands.
Book a Vow Renewal and Romantic Vacation with Hawaii Aloha Travel
if you are staying at The Outrigger Reef, you can take part in their vow renewal ceremony for free. The only drawback is that this ceremony is done for many different couples at once, all renewing their vows together. If you are on a budget, though, this could be a great option for you! The theme for the vow renewal ceremony at The Outrigger is "Ho'i hou ke aloha," which translates to "fall in love all over again." Vow renewal ceremonies are held on Tuesdays and Friday mornings at 7:45 am. Ho'ao Pa'a was the ancient custom by which a couple was bound in lasting union, and many of these elements are used in Outrigger's vow renewal ceremony. Registration is required, click here to register and for more information.
If you are interested in having a vow renewal while in Hawaii, give our travel advisors a call at 1-800-843-8771. We will work with you to find out what ceremony will work best for you, and we will make it happen. Whether you want to renew your vows on a sailboat or the beach, we will work with you to plan a ceremony that you will never forget.
To make your time in Hawaii even more special, talk to us about booking one of our romantic packages. Of course, our local travel agents can easily customize any aspect of your trip.
Our Hawaii All Inclusive Romance/Honeymoon Package includes five nights at a top four-star hotel, all breakfasts and dinners, daily excursions and private tours, private airport transfers, VIP hotline service, and our signature Hawaii Aloha Travel Welcome pack. We will take you on a 5-star dinner cruise, a spa day, and a private Romance  Tour. And we know that dining experiences are all part of the romance. So, we will make sure you have a romantic breakfast in bed, a private picnic on a beautiful beach, and dinner at one of Hawaii's top restaurants specializing in Asian Hawaiian cuisine.