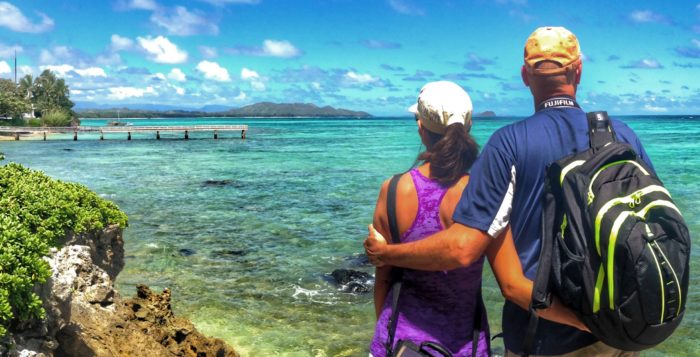 Hawaii Aloha Travel specializes in bringing people to Hawaii and creating a unique vacation experiences. Our experts are not only friendly and eager to help; they are also local here in Hawaii. All of the tours in this package are EXCLUSIVE, owned and managed by us. No Big Buses or touristy cheap activities. You get the advantage of working directly with agents here in Hawaii and not in cubicle in a boiler room working for a huge online travel company.
Agents here deliver service stemming from Aloha Spirit found island-wide; a warm greeting with a genuine graciousness. We are here to make your vacation as relaxing as possible, and are with you throughout your entire stay. So kick up your sandy feet and allow Hawaii Aloha Travel to provide you with stress-free service, so you can be allowed to relax.
This All Inclusive Oahu package includes:
Hotel transfers and Lei Greeting (Private limo add-on available)
Round Trip Airfare
6 Nights deluxe accommodations
All Breakfasts and Dinners
Private excursions and activities
Transportation
VIP personal Hotline service
Hawaii Aloha Travel Welcome Pack
Day 1 – Arrival, Greeting and Hotel Amenity
What better way to begin your Hawaii vacation than to be greeted with the tropical scent of a fresh plumeria lei. We understand that traveling can be an exhausting and long experience, so upon arrival to the island, you will be welcomed with a flower lei and a friendly Aloha welcome. Also waiting for you will be transportation to your hotel.  In your room you will find a welcome amenity gift, to begin your vacation. Depending on your arrival time, your agent can book an afternoon activity or a dinner for you on request as a add-on. Or you may wish to simply relax and lounge poolside, or catch your first Hawaiian sunset on the beach.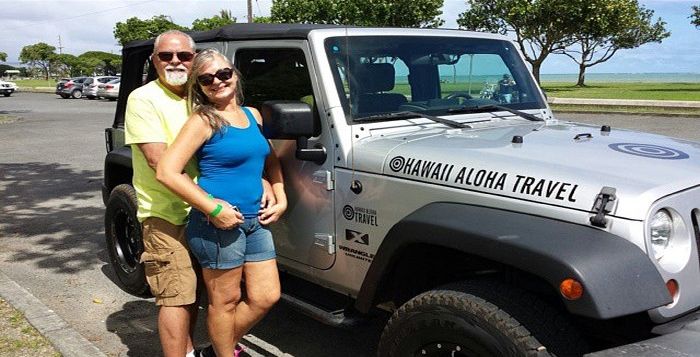 Day 2 – North Shore Exclusive Circle Island Tour
Wake up feeling invigorated for an exciting day on Oahu! Today you'll hop into one of our own custom Jeeps (top on or off, fully air-conditioned) with a local personal guide to explore the entire island, completing a circle around the scenic 112 miles of coastline in seven hours, beginning and ending right at your hotel. This private "go at your own pace" tour will show you the span of Oahu and you'll finish feeling as if you know the island like the back of your hand! Oahu offers everything from golden sandy beaches to vibrant underwater life to lush rainforests, so be sure to bring your camera for this adventure!
The Circle Island Tour takes you to some of Oahu's most breath taking scenic lookouts and points of interest, not to mention to some of the most infamous beaches along the north shore and the second most popular tour destination in all of Hawaii. Feel free to take a dip in the sparkling blue water or just walk along a secluded beach. Light snacks and beverages are provided complimentary. Get ready for an EXCLUSIVE one-of-a-kind expedition to the top spots of the island that cannot be found anywhere else GUARANTEED!

Day 3 –  Private Pearl Harbor 4 in 1 tour, or Car Rental
After breakfast at the hotel, you are ready to begin another day of Oahu exploration. You may choose between our private 4-1 Pearl Harbor Tour or using a rental car to traverse the island on your own (see Car Rental Option below). Oahu offers a wide variety of sightseeing, including Pearl Harbor, Waikiki, Ala Moana Shopping Center, the Mokulua Islands, and the Pali Lookout. Whichever option you choose; the day includes dinner at your hotel or at a local restaurant nearby.
Pearl Harbor 4 in 1 Tour:
This exclusive Private Pearl harbor experiences allows you to experience everything Pearl Harbor has to offer in one full day, including the Arizona Memorial, USS Bowfin, The Mighty Mo and The Pacific Aviation Museum. Your personal guide will be "on-call" the entire day to guide you through the various attractions. You won't have to worry about being herded like cattle in big buses, instead you'll be transferred in our luxury minivans for your comfort. We take care of everything including the tickets and making sure you see everything you want. Spend as much time as you like depending on your interest without the pressure of tour groups on a time clock.
Car Rental Option:
If you prefer exploring the island at your own pace, you are welcome to jump in a pre-arranged Jeep or convertible car rental. (Option available for drop-off service at the hotel or you can pick it up from a nearby location). Drive around Oahu at your leisure and choose which sites you wish to visit. We offer local tips and knowledge of personal favorites (i.e. Lanikai beach) as well as a self-guided Oahu driving tour CD. This option gives you the ability to be spontaneous and find your own most-loved locations around the island.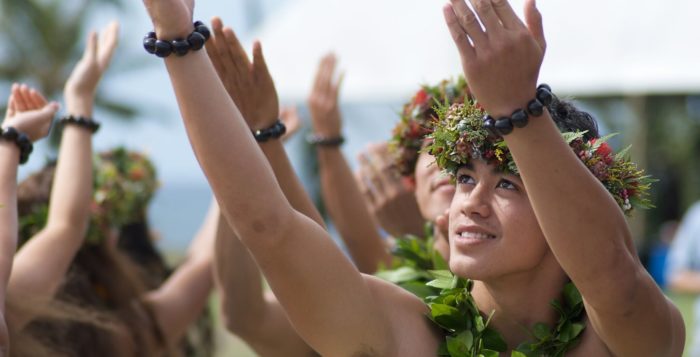 Day 4 – Hotel Breakfast, Hawaiian Culture Tour
Enjoy a relaxed breakfast at your hotel restaurant and look forward to "royal treatment" on our exclusive private Hawaiian Culture tour. Get ready for a day of fun and education.  Your guide will be local in-the-know and proud kamaaina (born and raised in Hawaii) who are more than just knowledgeable about the sites you'll visit – they're proud of their Native Hawaiian ancestry. You'll visit Hawaiian Heiaus; sacred temples for native Hawaiians. Included there is a hands on experience with "Kalo" (Taro) and spend time at Hawaiian fishponds learning how this innovative technique to capture fish was both ingenious and efficient. We 'll also share with you an authentic Hawaiian plate lunch with all the flavors of Hawaii.  This immersive experience will not only leave you in awe of the Native Hawaiian culture, but you'll also leave with a deeper appreciation for this incredible place we call home.
Day 5 – Easy Waterfall Hike and Evening Luau
Today you will escape Waikiki and take a three-hour excursion that begins with an easy hike through the lush Hawaiian rainforest. This easy, family-friendly hike is perfect for young children, seniors, and anyone interested in investigating Hawaii's abundant native flora and wildlife.
At the end of your hike, you'll be treated to a hidden gem: a spectacular waterfall so secluded few visitors even know it exists. This is NOT MANOA FALLS which is advertised a lot on the web which is filled with many tourists, so you'll be sure to have a unique experience. There, you can cool-off under the falls and let the cascading water reinvigorate you. This is the Photo-op you've been looking for!
After heading back to you Hotel you can rest up and get ready for a Hawaiian Luau at Paradise Cove. Located on 12 acres of oceanfront property, you'll be greeted with ocean views, friendly staff members, and Hawaii's famous tropical mai tai. You will be delighted to know that this luau is not just for feasting, but also entertains its guests with arts & crafts, traditional Hawaiian games, and a sunset view that cannot be beat.
Day 6 – Pampering day – In Room Massage or Car Rental
With all the adventure packed into this vacation, you need a day of relaxation and today is that day. After a hearty breakfast you'll head back to your hotel room for a in-room lomi lomi  or theraputic massage. Relax and enjoy a forty-five minutes of expertly blended therapeutic massage techniques to pamper, refresh, and renew your body and spirit. A rich variety of expertly blended therapeutic massage techniques are used leaving you feeling relaxed and rejuvenated, all in the comfort of you Hotel rooms.
Or, if you prefer to spend the day roaming the island by car again, swap out this spa day with another Jeep/Convertible rental. And you can still enjoy the fresh fish and cocktails back at the hotel, maybe even catch the sun setting over the Pacific..
Day 7 – Hotel Breakfast, Departure Day
Just because this is departure day doesn't mean you can't have just a little bit more fun. Head downstairs for one more local style breakfast at the hotel, and maybe even complete that with a fresh glass of POG juice (Hawaii's favorite Pineapple, Orange, Guava juice). Although most hotel check-out times are 12:00 noon, you may have time to hit the beach or adventure around some more, depending on your flight departure time. If you wish to leave the hotel before heading to the airport, have the front desk hold your luggage for you. Our transportation services will pick you up from the hotel in a timely manner for you to arrive at the Honolulu International Airport. From there you will begin your journey back home, and remember, Oahu will be waiting to greet you again soon with a friendly aloha and with spirit of Hawaii.
See more All Inclusive Hawaii Vacation Packages.