In the previous HAT Blog, we wrote about the seasons in Hawaii, Fall in particular, and what makes Hawaii's seasons unique. There's a fifth season in Hawaii, however, and we'll talk about it here. North Shore Oahu has its own "big wave season", which spans the months between October and March. It's commonly referred to as the "North Shore winter", although it encompasses Fall, Winter, and Spring.  
During this time, massive swells from the Northwest Pacific march thousands of miles through the deep sea and unleash unfathomable amounts of raw energy onto the North Shore. Some of that energy has begun to arrive, and thus the North Shore winter with it. North Shore Oahu is the center of the surfing universe during a North Shore winter.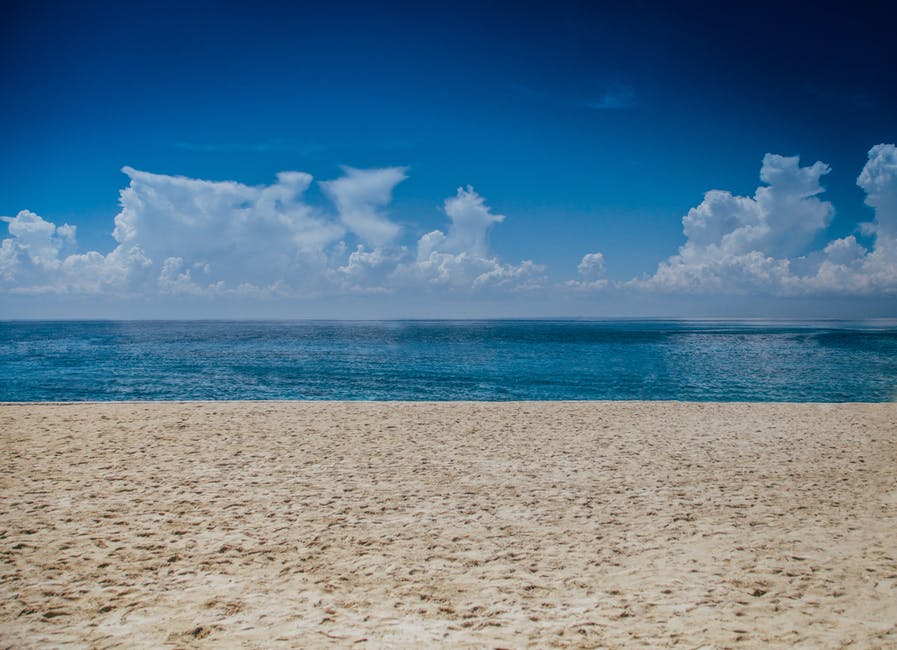 We can't overstate the raw beauty and power of those waves or the courage and skill of those men and women who ride them. Nor can we overstate the grave danger those waves and conditions pose to unwary visitors. Oahu's Ocean Safety personnel are perhaps the best in the world. Water rescues are routine. Sadly however, water "recoveries" are not uncommon. The difference is life and death.
Not all North Shore beaches have Ocean Safety lifeguards. We recommend avoiding those beaches. During high surf events, things can turn deadly in an actual heartbeat. It's best to stick to beaches where trained, lifelong lifesavers can get to someone in danger as quickly as possible. We offer here three of the North Shore's most popular beaches, each of which is guarded by individuals wholly committed to keeping beachgoers safe.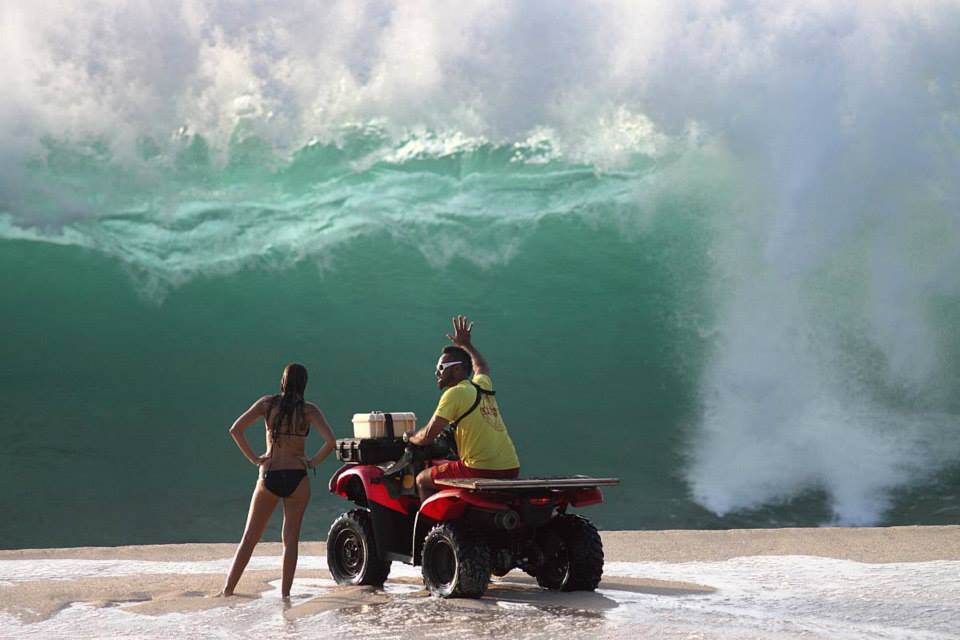 NORTH SHORE OAHU – LIFEGUARDS
Haleiwa, Ali'i Beach Park
Located in Haleiwa alongside the Haleiwa Boat Harbor, Ali'i Beach Park has a lifeguard tower, restroom and shower facilities, and a moderate amount of public parking. It is the home of a handful of amateur and professional surfing competition each year. Every professional surfer from Hawaii has entered multiple contests there since the beginning of their careers, and they still compete there.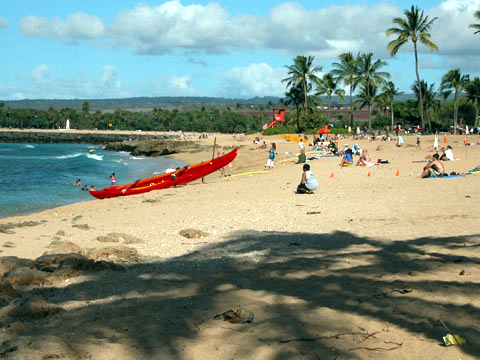 When conditions are favorable, Haleiwa (as the surf spot is known) is ideal for surfing beginners. Gently rolling, smaller reforms of larger waves "out the back" are user-friendly. But when conditions are serious, the shore break at Ali'i Beach Park is traversed by a swift current that turns into a riptide that can suck inexperienced swimmers and surfers out to sea in seconds.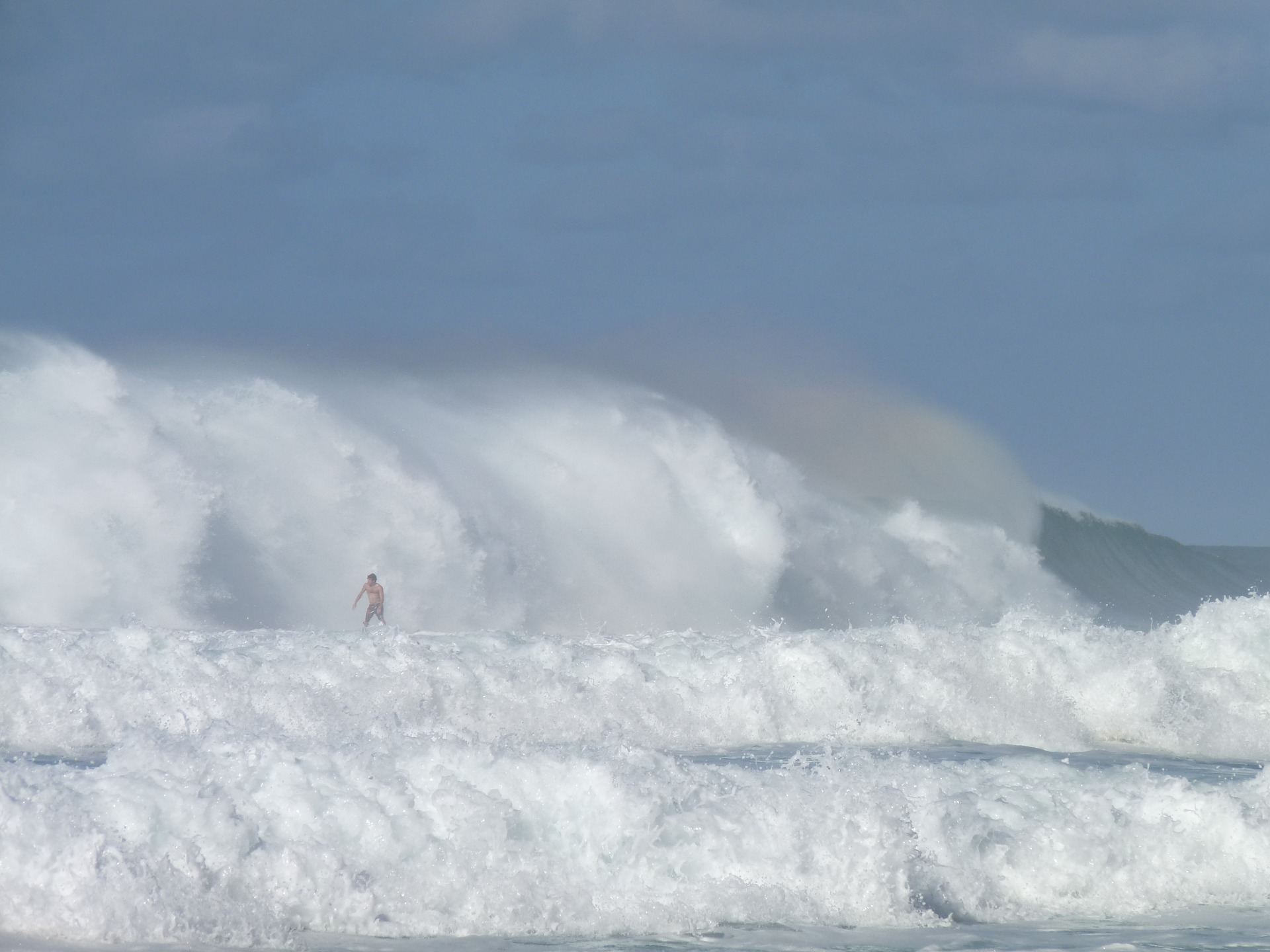 North Shore Oahu, Ehukai Beach Park
Ehukai Beach Park is home to the world-famous Banzai Pipeline, without question the most famous surf spot in the world. It is certainly among the most dangerous, too. When the tide is right, the coarse white sand beach is expansive (pro tip: that coarse sand is easier to get out of your hair and beachwear than the fine white sand of, say, Waikiki Beach). It's ideal for sunbathing. When the conditions aren't at advisory levels, the water is warm and inviting.
No small number of professional and/or lifelong Pipeline surfers have lost their lives on that stretch of reef, others injured permanently. The Ocean Safety lifeguards there make many hundreds of preemptive and rescue actions each winter season. When Pipeline is "on", it's best to stay on the sand and keep your eyes on the ocean.
North Shore Oahu, Waimea Bay
Waimea Bay is home to another world-famous big wave spot, with surf in the 30-40 foot range possible when strong weather systems to the north spin swells that rumble the sand beneath your feet. The beach at Waimea Bay is large, with plenty of room to keep from getting too close to the shore break. It's picture perfect in the calm summer months, but the winter season changes the calculus when it's "big wave time".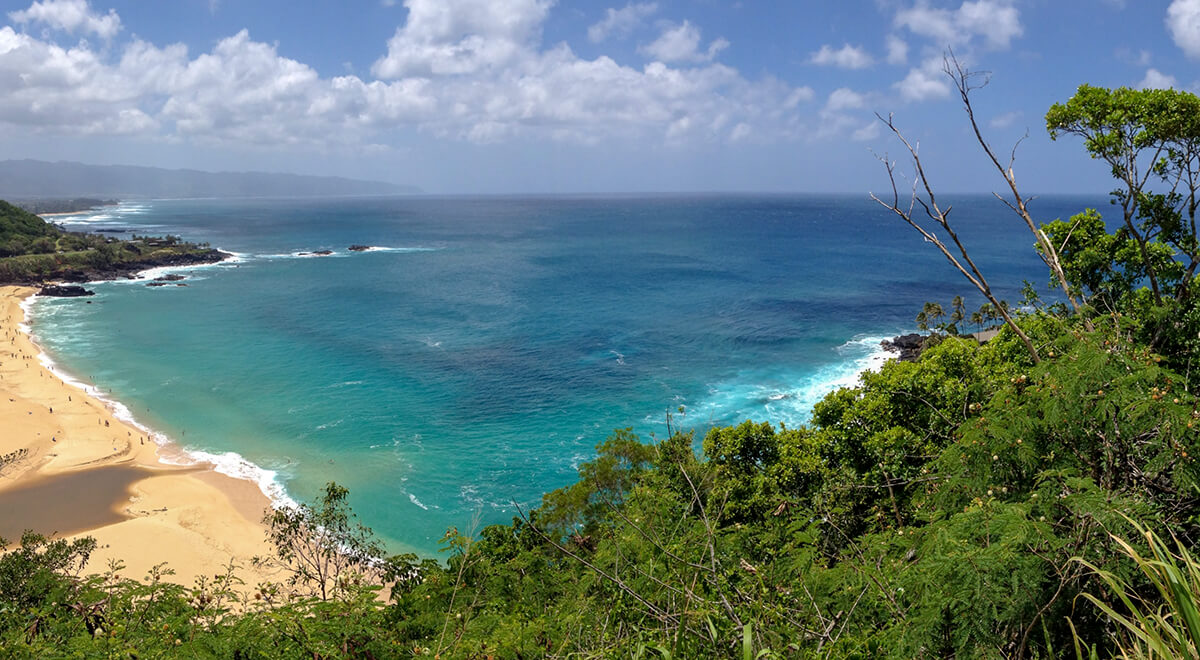 The Ocean Safety lifeguards are elite among water safety crews around the world, even within the department itself. They are the best of the best. Considering the dangers posed by giant surf and deadly currents there, they have to be. It is their job, and their unwavering devotion, to put themselves in harm's way to rescue others from it.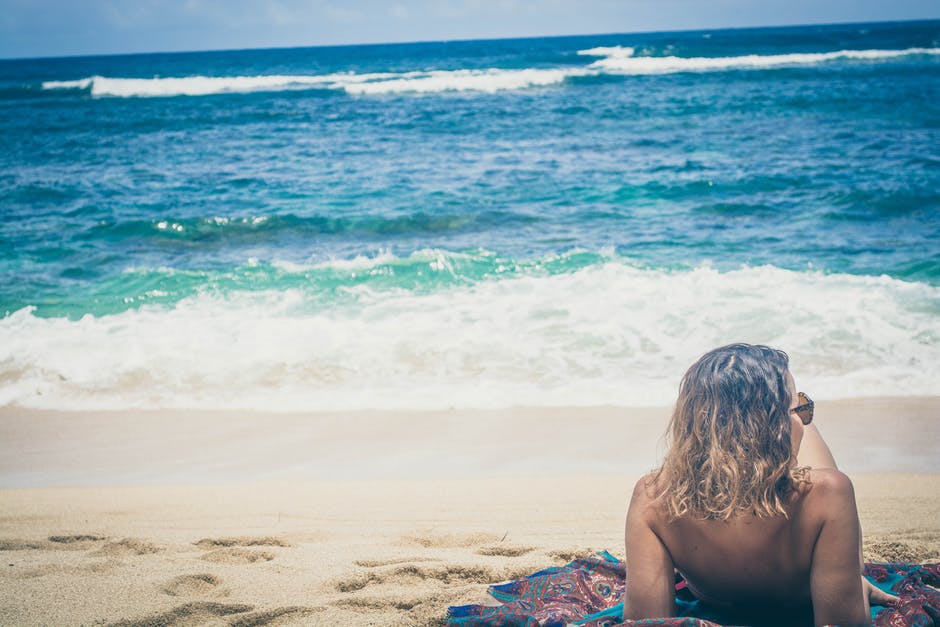 All three of these beaches are spectacularly beautiful. They are also deadly. That's why those lifeguard towers are there in the first place. But all the training and experience in the world cannot keep unwitting visitors (or witting residents) from making foolish decisions or getting caught in a dangerous situation by quickly-changing conditions.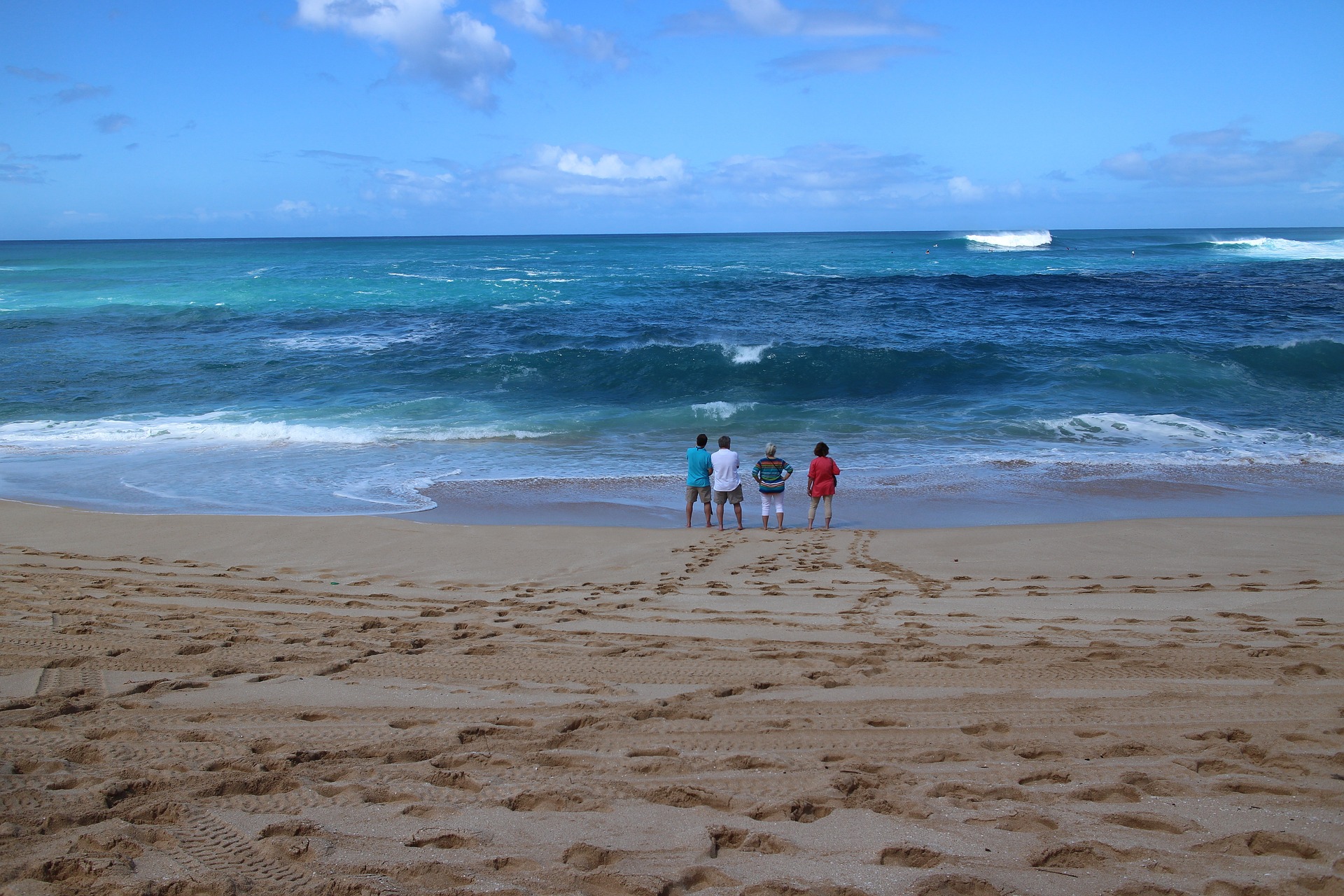 We recommend you stick only to beaches with lifeguards on North Shore Oahu. Ask them about current conditions. It's not a bother to them. They want you to be aware of any danger. What bothers them is having to rescue a swimmer or, heaven forbid, recover a body who didn't heed posted and repeated vocal warnings.