Yeah, it's out there. But for Oahu visitors who love golf, the long drive from Waikiki to the Ewa Beach Golf Club is always worth the trip. About a 25-mile drive from the Hawaii Convention Center in Waikiki, the course is gorgeous, challenging, and it enjoys almost-always perfect weather.
The course is located at the very end of Fort Weaver Road in the expansive Ewa District of Central Oahu. If you're coming from Waikiki, you'll pass well over a dozen other fine courses on the way, many of them along Fort Weaver Road. It's about a 45-minute drive from Waikiki if traffic is light. The nearby resort area of Ko Olina is just a few minutes' drive away.
Beyond the links-style layout of the course and the vast canopies of a keawe (acacia) forest, there are several unique features at Ewa Beach Golf Club that make it much more than an average golf course. First among them is the occasional burst of machine gun fire coming from a military live-fire training range adjacent to the course.
Should you worry about your safety because of the proximity to the range? Absolutely not. Should you expect a seemingly random pop-pop-pop report of assault weapons during your backswing? Probably. Most residents who take visiting guests to Ewa Beach GC "forget" to tell them about the nearby firing range, and they have their cameras ready on the first tee in case that happens because the hilarious viral video potential is undeniable.
Hijinx aside, Ewa Beach GC is also a Native Hawaiian historical site. On the first tee, you'll be hitting over the remains of an ancient fishing village that dates back hundreds of years. Legends and lore about Ewa abound. In fact, Ewa means "lost or wandering" in the Hawaiian language, which describes most of this blogger's shots. It's apt.
Several of Hawaii's many endangered species call Ewa Beach GC home, including the Hawaiian Stilt, or a'eo, and the ke'oke'o. It's essentially a carefully manicured nature park. Some consider the presence of these rare species to be good luck, which is fine. Lucky bounce? "Thank you, little ke'oke'o!" But if you put one in the drink, well, that's on you.
The signature hole at Ewa Beach GC is the Par 3 13th. It's steep downhill and over water, and the soft thump of your ball landing on the green is the sound of triumph. The 14th, however, requires a lot more work. It's a long par-five hole, with water down the entire right side. Full disclosure: I'm pretty sure that I have never not gone in the water on the 14th at Ewa Beach GC.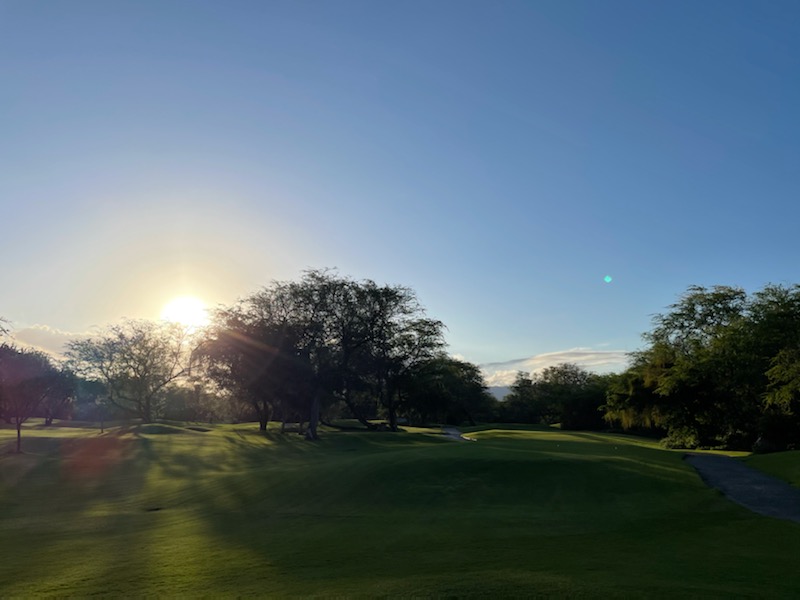 The grass is paspalum, for those golfers to whom it matters, and the greens at Ewa Beach GC are among the finest on Oahu. The rough can get deep. Trees are an issue on most holes, if not on most shots. The 2nd and 16th holes share a large green, a trendy conceit when the course was opened in 1992.
You can enjoy a refreshment at the clubhouse at the end of your round or choose from countless restaurants and bars out there on the Ewa Plain to satisfy your appetite and slake your thirst. We'd recommend playing early and taking a picnic to nearby White Plains Beach to swim out the kinks on your body and mind you earned at Ewa Beach Golf Club.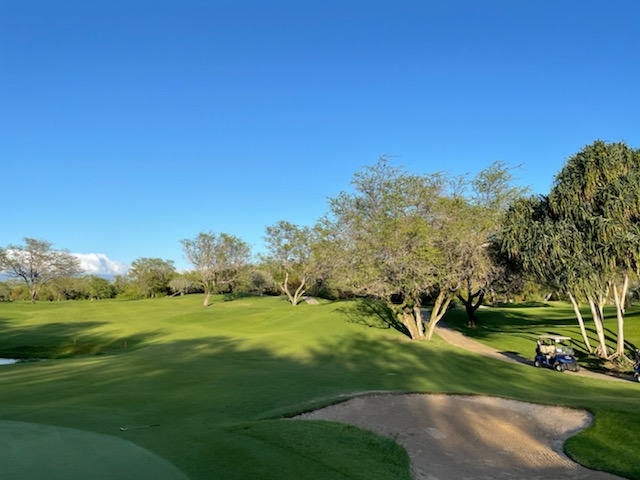 Hawaii Aloha Travel can help you get the best rates and tee times at Ewa Beach Golf Club, or any of Hawaii's many dozens of championship golf courses. We're your Hawaii vacation local connection.