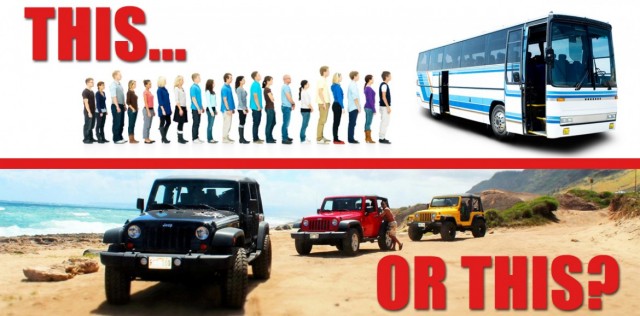 You have probably heard of Roberts Hawaii, Discover Hawaii and E Noa tour companies; Large buses, streamlined tours and activities and big crowds. People, people, people. But the truth is, travelers the world over wish to explore Hawaii. And if you don't have a friend on island who's kind enough to play tour guide while you're in town, well then, these tour companies are usually your best bet.
But for the crowd phobic couple or family looking for an authentic experience, we'd like to be the first to tell you about the new tour company in town. Hawaii Jeep Tours is the sister company to Hawaii Aloha Travel and your new guide to The Islands. Dealing only with intimate tour groups, you can guarantee you'll receive personal treatment during your activity and/or adventure, and you'll be doing it in style!
True to their name, Hawaii Jeep Tours uses off-road Jeeps to cruise folks around the island. Why? Because these vehicles can go where the buses can't! And they offer an off-the-beaten-path style of touring, which isn't matched elsewhere. Tour guides provide their guests with one-on-one attention and take the group to underground spots only the locals know about.
Not only are Hawaii Jeep Tours intimate, they're priced really well too. The owners and collaborators believe that visitors to Hawaii should be able to find fun, unique and affordable tours around the island. And when they found it didn't exist, they sought to create it.
Here's a quick look at the exclusive tours this new company offers:
Aloha Plate Food Tour – Spice up the vacation and let your taste buds do the exploring.
Circle Island Tour – Get to know Oahu like the back of our hand.
Waterfall Tour – Saturate your senses with nature's most stunning handiwork.
Snorkeling Tour – Expand your world and explore a whole new underwater tropical habitat.
Hawaii Five-0 Tour – Check out the filming grounds of the hit TV series and be part of the action.
Custom Tour – Dream up, combine or customize. Hawaii is as unique as you.
If you're sick of the big buses like we are, then get away from the crowds, get personal with the aina and get onboard Hawaii Jeep Tours.