A few days before Christmas, the state put up temporary cement barriers at Laniakea Beach; prior to that, plastic blockades were in place to prep for the cement ones.
We got a chance to see them putting up the cement barriers on our drive back into town. Ironically, they had been installed during a huge winter swell, so surfers were naturally pretty bummed about that. They, along with those wanting to get a glimpse of turtles laying on the beach, will have to park farther up Kamehameha Highway.
The barriers on the mauka side of the road will be up for one month (supposedly removed end of January 2014). This change will reduce the number of pedestrians crossing and traffic congestion, according to a release. Officials will also be monitoring traffic flow throughout this one-month period to determine whether it should be extended beyond one month.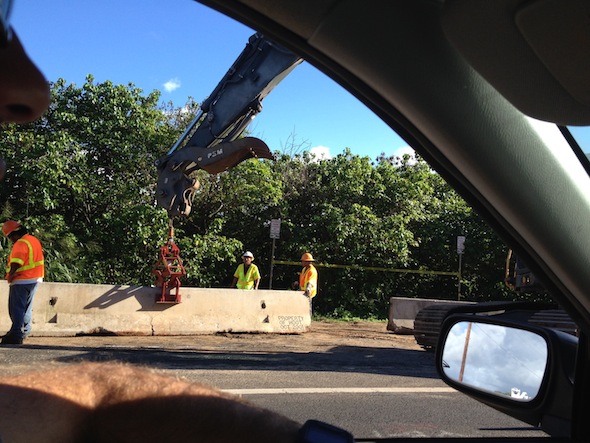 Where should you park if you want to see the turtles at Laniakea? Well, the state hasn't quite specified; however, there are discussions of building a pedestrian footbridge, a tunnel or creating a paved parking lot on the ocean-side of the road. That would require moving the highway more inland, according to the release. It would also be a while before either of those takes effect.
We will keep you posted on what becomes of the Laniakea barriers.