Aston Waikiki Beach Hotel
Agent Review:
Angelica
"If you are looking for a fun and lively hotel in Waikiki this a good place. Directly across from Waikiki Beach, this hotel has a fun spot called Tiki's Grill & Bar. With the live local music you are in for fun, but it can be loud. If you are looking for a quiet secluded spot, this is not the place for you."
The Aston Waikiki Beach Hotel is a lively, modern hotel with breathtaking views of Waikiki beach. The sleek, stylish guest rooms are tastefully decorated with luxurious modern décor and pops of vivacious island colors. Mini-refrigerators, central air conditioning, private balconies, and large LCD TVs make time indoors relaxing and enjoyable, while an on-site fitness facility makes it easy to keep up with a fitness regime while on vacation. Valet parking is available at a rate of $27 per day.
Hotel guests are invited to enjoy a complimentary "Breakfast on the Beach" each morning, and those who would prefer to dine elsewhere may take their morning meal to go in a free souvenir cooler. Those who miss breakfast, or are looking for a convenient meal to fuel up for the day, can head downstairs for a quick visit Subway, Wolfgang Puck Express, or Cold Stone Creamery.
Guests looking to sit down and enjoy some fresh cuisine with a dash of Hawaiian flare can pay a visit to Tiki's Bar and Grill, a spirited indoor-outdoor restaurant and bar with delicious food, signature Hawaiian cocktails, and live entertainment.Close to the Honolulu Zoo, Waikiki Aquarium, and Diamond Head State Park, the Aston Waikiki Beach Hotel is a great choice for families looking to take part in fun, educational activities. Guests can easily rent surfboards, bikes, and snorkeling equipment from a handful of nearby vendors, and visitors looking for a seafaring adventure can catch a catamaran cruise or a sunset sail right across the road on Waikiki Beach.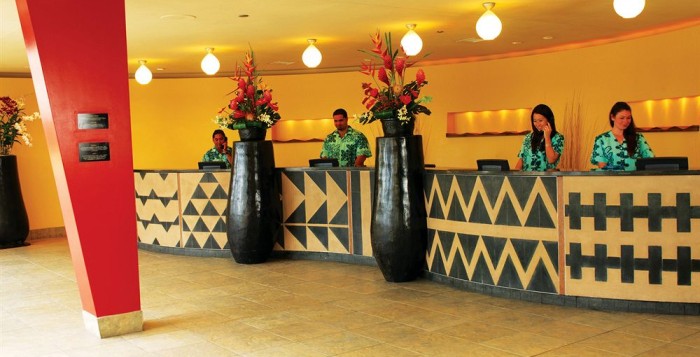 Many sought-after shopping destinations are within blocks of the hotel, and Downtown Honolulu with its trendy bars and numerous historic sites is just 5 miles away. An on-site activity desk is available to assist guests in organizing thrilling island adventures, and those who want nothing more than a lazy day on the beach can simply peek out their hotel windows to scope out the perfect sunbathing location.