Many see Hawaii as a destination for relaxation. But those with a special adventurous spirit see it as an opportunity. If you're looking for an Oahu trail for the avid and advanced hiker, you ought to check out The Olomana Three Peaks Hike.
Olomana Peaks is one of the best hikes on Oahu if you are up for an exciting hike with amazing views of the Windward side of Oahu. This tends to be a longer hike for most people, so make sure to bring plenty of water and a couple snacks. Start this hike no later than 12 p.m. to ensure that you return before last light. And if you have a fear of heights, do not bother. There are several narrow ridges and rock climbing involved, and several people have died attempting this hike.
But this hike is only for the Brave and experienced at heart. If you fit this description, start your drive towards the Kailua and Waimanalo area. Hikers park along the road outside of the Royal Hawaiian Golf Club. Because this is a well-known parking spot for hikers, do not leave any valuables in your vehicle. To access the trailhead, walk about a half mile down the road until you see the "Olomana Trail" sign on your left (which looks more like "Yoloman Trail" now).
The trail is well defined, but pay attention to the forks in the road, as it is easy to take a wrong turn coming back. It is an uphill path up the first peak, known as the Olomana peak. This first peak doable for any novice hiker but requires a little rock climbing. There are ropes for assistance, but be do not completely rely on them. Ensure stability in your footholds. Once you pass the rock / rope climbing of the first section, you will soon be greeted by stunning views of Kailua from the top of Olomana.
The descent from Olomana is easy for most hikers, as well as the hike up the second peak, known as Paku'i. Expect a narrow ridge between the two, but savor the ease of this section because it is about to get tough.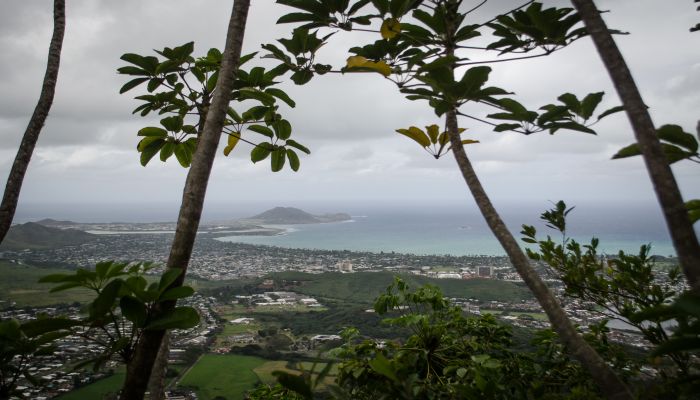 Paku'i is about as difficult as Olomana. And the view is just about the same. This is where many hikers either take a short break to recharge, or turn around. The descent from Olomana to the third peak, Ahiki, is where the real challenge begins. As you reach the edge of the second peak, you will look down a nearly vertical slope of which you must scale down in order to reach Ahiki.
There are several ropes alongside the back of Paku'i, but it is still difficult. TAKE YOUR TIME. Do not rush this section of the hike. There is a generous amount of loose gravel and minimal hand-holds. There are many places where one wrong move could leave you seriously injured. But it is also the most exciting. You will feel your whole body work to accomplish a safe descent. It may be scary, but you will never hear anyone say that the descent was boring.
Coming down the second peak is the most difficult part of the hike, but the ascent up Ahiki is not much easier unless you enjoy scrambling up the rocks of a mountain. And feeling your pulse through your body. While coming up Ahiki you will climb past a puka, or gap, in the rock formations. You must also take your time with this section because it is very narrow and steep. The exposed ridge may test your nerves, but if you focus on your hiking more than the heights you should be perfectly fine.
With the last bit of the uphill battle you will have finally made it to the top of Ahiki. The view is just as gorgeous as the last. But what sets it apart is when you look back at Olomana and Paku'i while standing on Ahiki knowing that you had just conquered the deadly Olomana Three Peaks.