A couple of weeks ago when settling in at a West Maui condo, I started looking into tee times at various golf courses in the area. Several are legendary, home to PGA events and some of the most dramatic views you'll see in coverage of the pros on major networks. Green fees and club rental charges came as a rather rude awakening to the high price of resort golf on the Valley Isle.
I have a friend who lives Upcountry in Pukalani, where I found the Pukalani Country Club with a simple search. I called the clubhouse and spoke with "Tassie", a cheerful woman who told me about their Tuesday Kama'aina Rate after I told her that Honorable Wife Person and I were visiting from Oahu.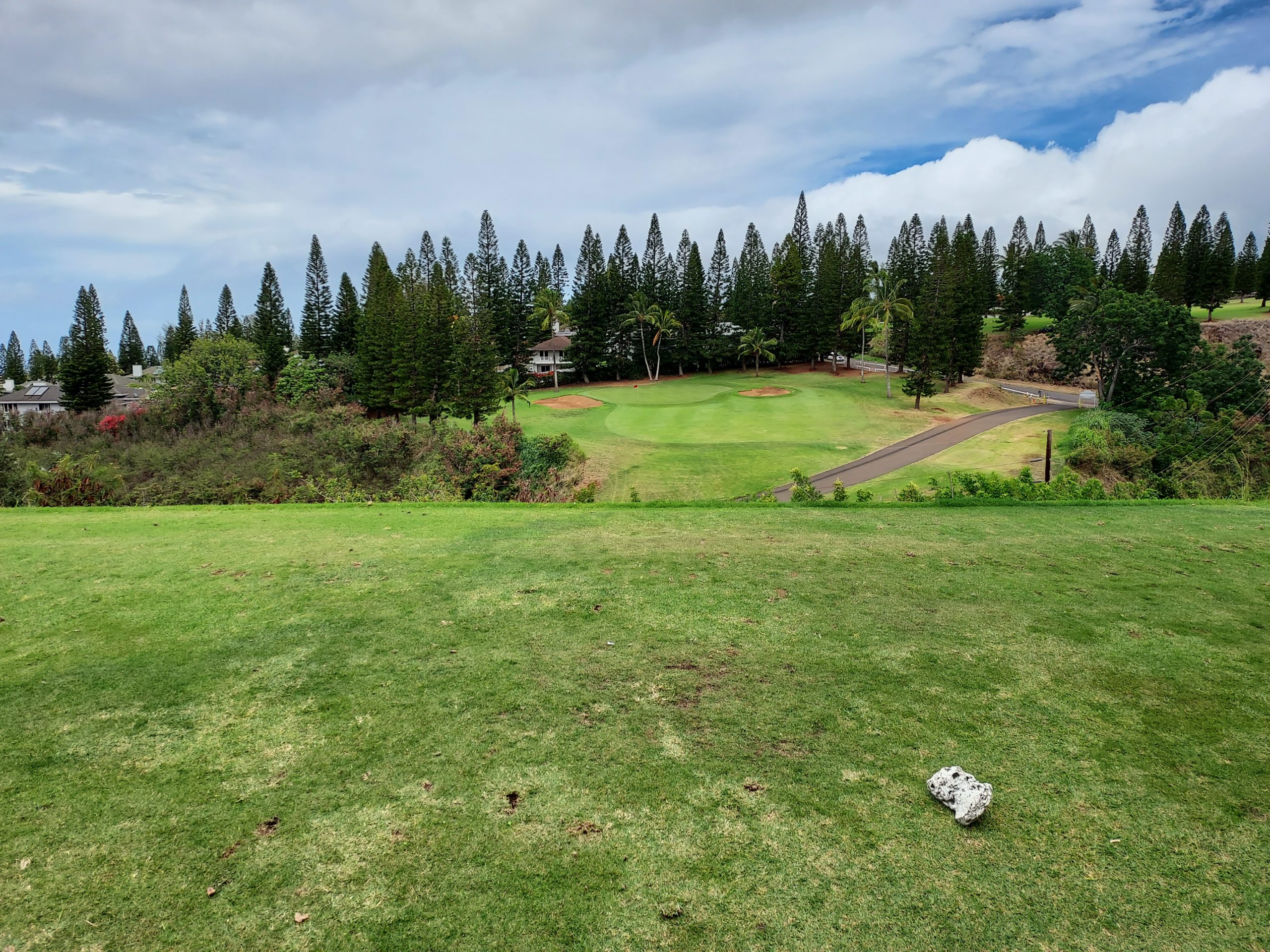 Green fees, golf cart, and club rentals would cost us…$80? "Wait," I said, stunned. "Eighty bucks for everything?"
"Yep!" said Tassie. "Everything." There are popular courses on Oahu where the green fees alone, at the Kama'aina Rate, are that much. "What time you wanna play?"
It's called a "country club" and that is technically accurate, in that it's in the country. But there is nothing posh or pretentious about the Pukalani Country Club. It consists of a couple of converted double-wide trailers to house the clubhouse and a small restaurant/lunch counter and a few tables outside. The starter works at a picnic table.
The starter himself was a gregariously friendly local-haole guy, "'John" I think. He seemed surprised that we were renting clubs. Evidently, they don't get a lot of visiting golfers up there. I don't think we saw any, either, because "Kama'aina Tuesday" is clearly no secret to Upcountry duffers. By the time we made the turn and resupplied refreshments and snacks, several groups of obvious regulars were getting ready to tee off. I was glad to have made a relatively early tee time.
The course itself is gorgeous. It's located in a residential neighborhood, which can make for some nervous tee shots. It's quite possible to hit the homes that line many of the fairways (brother-in-law opted to leave his driver in the bag on several holes). I had to fish one errant drive through the chain link fence of someone's yard. Yes, I counted the stroke.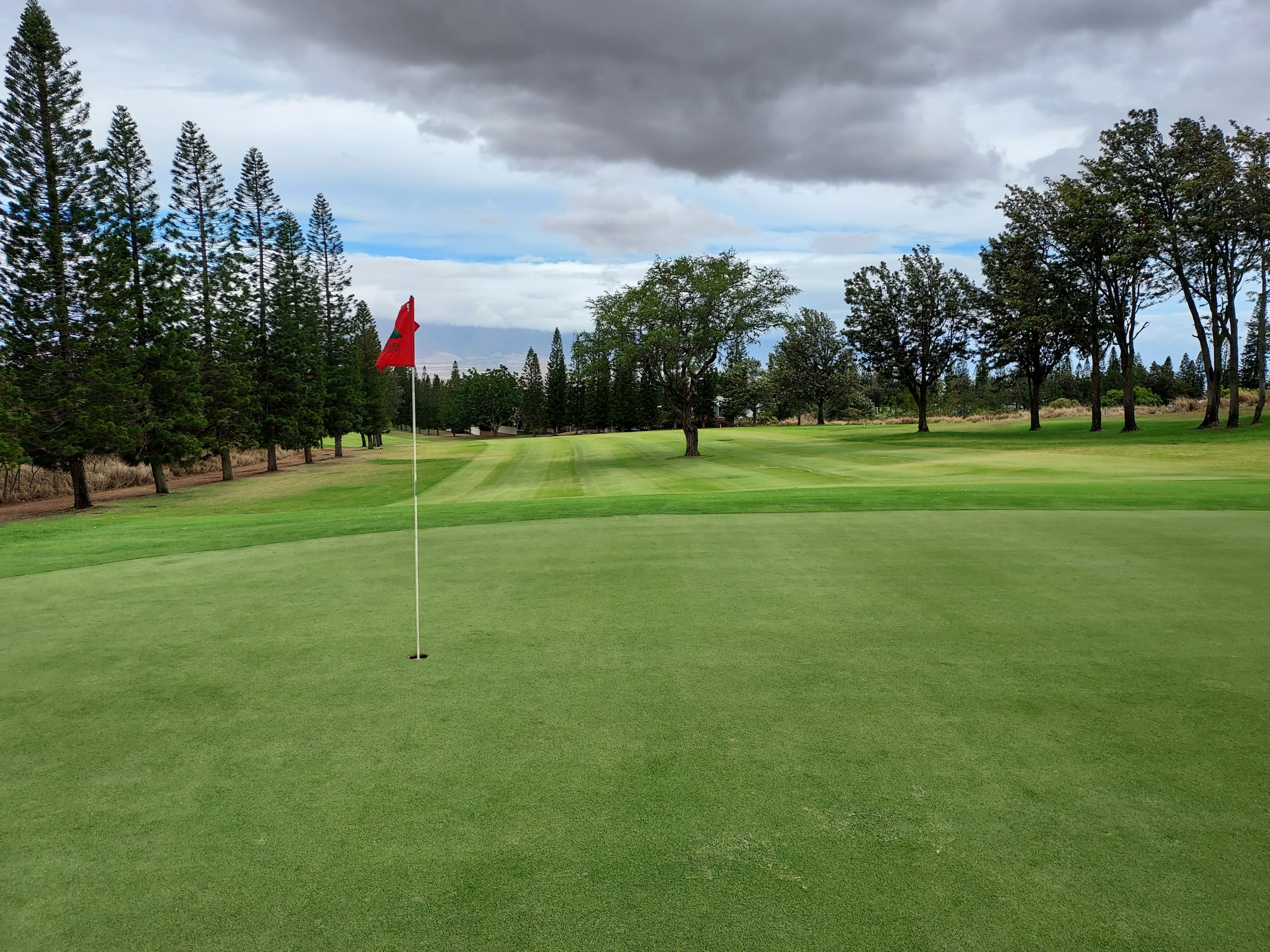 The views at Pukalani Country Club are spectacular. Many holes look out over the central Maui plain to the eastern flank of the West Maui Mountains. Others stretch up the slope of Haleakala Crater. It's absurdly picturesque throughout.
Resort golf on Maui can be prohibitively expensive. It was for us. But Pukalani Country Club and other Maui courses offer splendid, affordable alternatives to the famous courses of Wailea, Kaanapali, and Kapalua. With a little planning ahead and a sense of adventure, visiting casual golfers (or hopelessly addicted duffers like this humble blogger) can get in a round without having to take out a second mortgage to pay for it.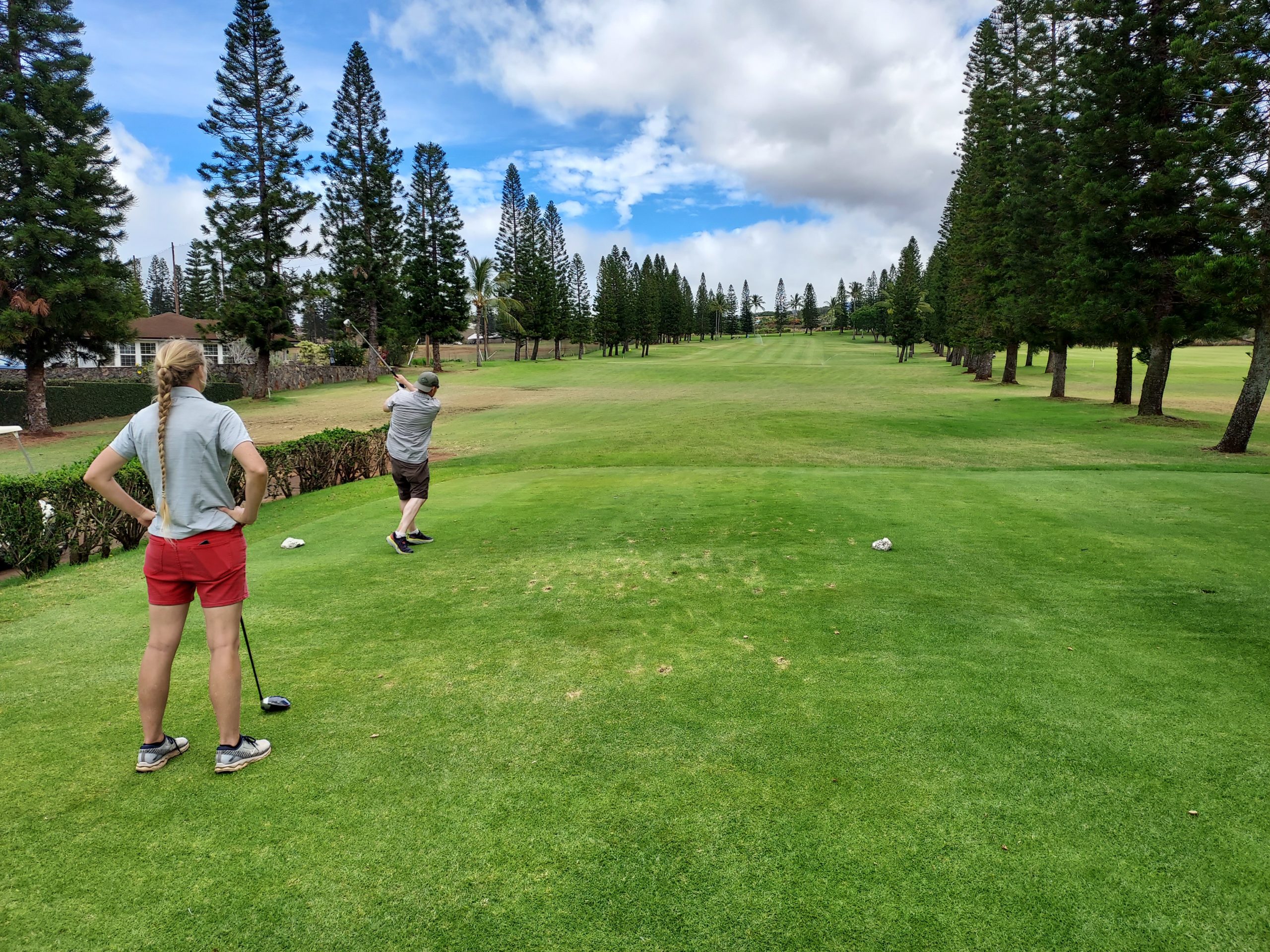 Planning is key, remember, to finding the best deals and understanding weather conditions, which change quickly. We expected high winds Upcountry, and we were delighted to find them merely "brisk". We here at Hawaii Aloha Travel can help you plan a Hawaii vacation side-quest of golf that won't bust your budget or frustrate your other plans.
"Your group, on the tee!"