One of the more gratifying ways of experiencing local culture while vacationing in Hawaii is to find a good happy hour establishment.
Most bars and restaurants offer discounted drink and food selections during that special time of day when working folks want to unwind after work, bend an elbow, and wait out rush hour traffic. I was recently afforded the opportunity of enjoying a happy hour at Signature Steakhouse, at the top of the Ala Moana Hotel, and I would happily recommend it to even my most discerning associates. Signature Steakhouse is an upscale steakhouse, with entrée items ranging from $30-$70 dollars. But don't let that price range scare you off of the happy hour there. The prices for happy hour pupus (appetizers) and cocktails are uncommonly reasonable for an upscale steakhouse of this caliber. The dramatic, panoramic views of the Ko'olau Mountains, Waikiki and Diamond Head, and the sun setting in the west are reason enough to give it a go.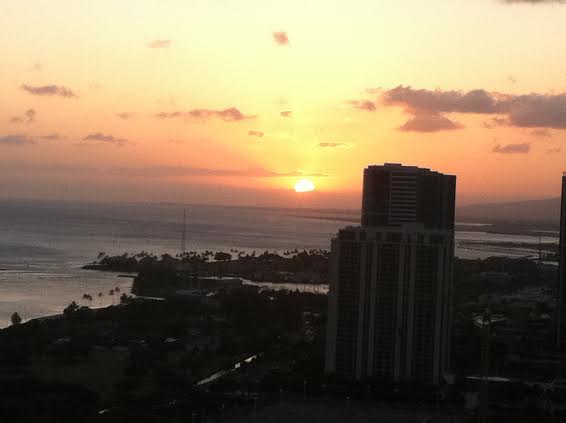 The service was impeccable, warm, and friendly upon our arrival at the hostess reception area. The bartender, Jason, was knowledgeable and affable. With a piano player tinkling tastefully at a white grand piano as the sun fell, it was easy to see that the evening was going to be delightful. A sly fiver to James at the keys brought Pachelbel's Canon in D to life as we sampled the menu. The happy hour dining menu at Signature offers 10 appetizer selections at half of their dinner menu prices, all $10 or less. The filet mignon sliders, spiced honey-glazed baby back ribs, and ahi poke were particularly noteworthy. We elected to order oysters on the half-shell (not on the happy hour menu), and even at $16.95, they were good enough to order two more well-presented plates. I didn't even know I liked oysters on the half-shell. Also tried were the chopped steak and crispy-fried calamari, which were somehow surprisingly elevated from their typical plate-lunch milieu. Delicious.
The beer selection at Signature is limited, but does feature Maui Brewing's Big Swell IPA and Coconut Porter. I tried the crafted Michener Cocktail, a mix of Appleton Estate Spiced Rum, Luxardo Maraschino liqueur, pineapple juice and mango puree served "up" in a martini glass. I'm usually more of a whiskey-Coke person, but the Michener reminded me that there is much more to happy hour than quotidian spirit/mixer options.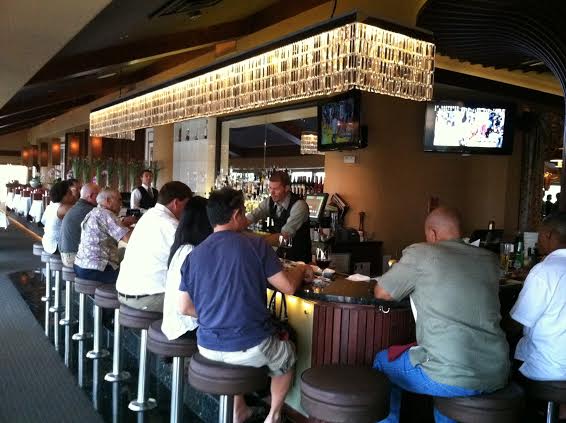 The bar itself at Signature is smallish, with about a dozen stools around a handsome granite bartop. Our party of six was happily accommodated at a table near the bar. For an upscale steakhouse, Signature is comfortably casual. I went with a can't-go-wrong khakis and Reyn Spooner ensemble (I call it the Honolulu monkey-suit), but some seeming regulars were in t-shirts.
As for the restaurant itself, there isn't a bad table in the house. It wraps around three sides of the hotel, and even as night falls, it's easy to take in the view. I've yet to have a full dinner at Signature, but the happy hour menu there certainly constitutes a proper supper on its own.
Located across the street from the Hawaii Convention Center, Signature Steakhouse is a convenient, classy happy hour with prices, service, and atmosphere that are exceptional anywhere.
For the full Signature Steakhouse cocktail, wine, and dinner menus, visit www.signatureprimesteak.com.