This is not a scientific ranking of "Oahu's Best Views" but my picks for best lookouts on Oahu. There are countless rare and stunning views all over the Gathering Place. But the vast majority of Oahu's best views are not easily accessed and require a deep knowledge of Oahu's hiking trails and the ability to make vigorous, challenging hikes and/or special permissions to access.
Links below provide information about amenities and hours for five of eastern Oahu's most accessible scenic viewpoints.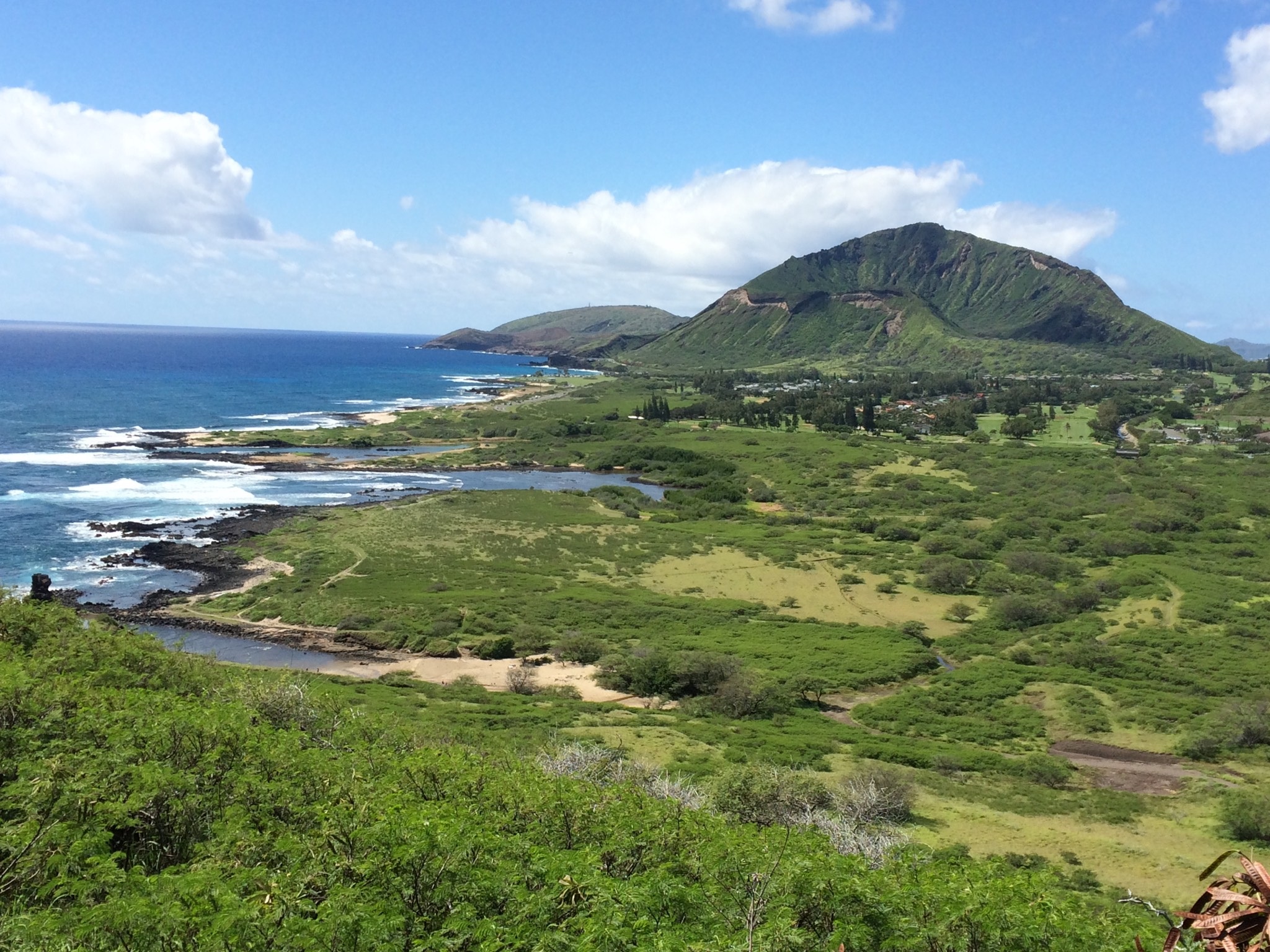 This is a subjective list of lookouts on Oahu, with easy accessibility, proximity to Waikiki and Honolulu, and the "wow factor" being the main criteria. It's no coincidence that these locations are among the most popular for Oahu visitors, easily found by rental vehicle or public transportation (TheBus).
With a rental vehicle and some thoughtful planning, it's possible to take in all of the locations on this list in a single day. It'd be a long day, but absolutely worth it if you are committed. Ideally, you can plan to visit one or two of these places each day of your stay and still enjoy much more of what Oahu has to offer during your Oahu vacation.
A Guide to Diamond Head Crater & Lookout
Diamond Head Crater/Diamond Head Lookout
The summit of Diamond Head Crater (also known as Mount Leahi) offers an expansive panoramic view of Oahu from its southeastern tip to its southwestern tip. All of historic Waikiki and its world-famous beaches are literally at your feet. It is an at-times steep .8-mile walk that may not be suitable for younger children or visitors with mobility difficulties. It is at an elevation of 560 feet.
But, wait! For those unable to make the climb to Leahi's summit can still enjoy the coastal view from a nearby lookout on Diamond Head Road. It also offers a front-row view of the surfers in the waters just below the 300,000-year-old crater.
History of Diamond Head
Having existed for more than 100,000 years, Diamond Head was named a National Natural Landmark in 1968. From once being used as a strategic military lookout in the early 1900's, Lēʻahi Head is presently a coveted hiking destination with panoramic views of both Waikīkī and Oʻahu's south shore.
Diamond Head Hike Trail: What To Expect
The hiking trail to the summit is very steep and uneven in many cases. Look out for the mile that is all stairs and especially steep. Expect 1.5 to 2 hours to complete your hike. Wear good walking shoes, wear sun protection gear, and most importantly, stay hydrated.
Other Top Hawaii Lookouts
1. Pu'u Ualaka'a State Park (Tantalus Drive)
Pu'u Ualaka'a State Park/Tantalus
Tantalus Drive is famous for its impossibly winding path through the rainforest above Honolulu. Pu'u Ualaka'a State Wayside looks out over Honolulu-proper, including Diamond Head and Waikiki, and all the way out to Barbers Point, many miles west. The park is ADA accessible, with picnic areas and restrooms.
Below the park is the Tantalus Drive Lookout. The view is not as wide as the one offered at the nearby state park, but it makes for a great photo-op on a leisurely drive through the forest. It's a roadside attraction and is usually quite busy with limited street-side parking during the day. After sunset, camera flashes can be seen popping at the lookout all the way from Waikiki.
2. Makapu'u Point Lighthouse Trail Lookout
Makapu'u Point Lighthouse Trail Lookout
Built in 1909 and later gifted to the Department of Land and Natural Resources, the Makapuu Light House Wayside Trail is a relatively easy 2-mile round-trip walk. It is among the most popular lookouts on Oahu, with a vista that sweeps from Molokai and Maui in the distance on clear days to the far reaches of coastal East Oahu. The trail climbs to an elevation of 500 feet along seaside cliffs.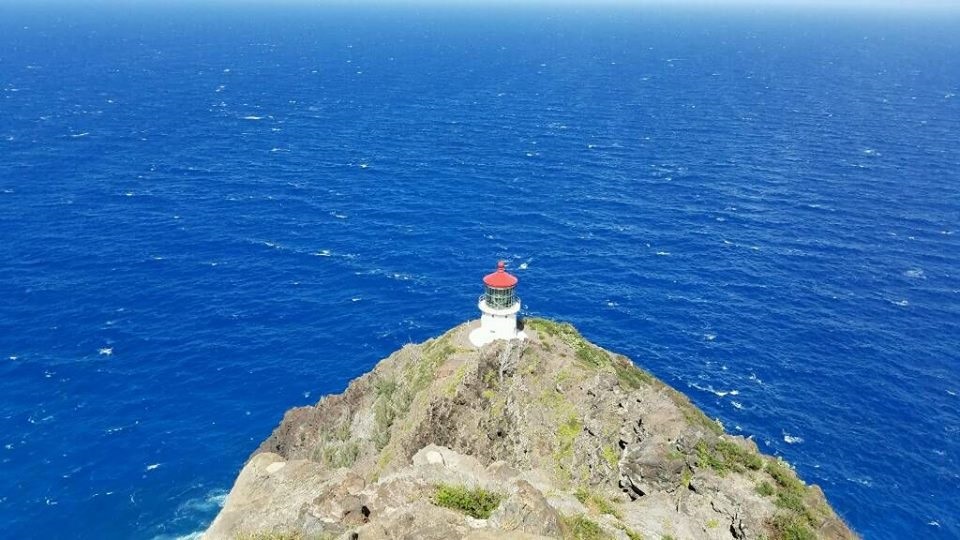 3. Nu'uanu Pali Lookout
A 20-30 minute drive north along Kalanianaole Highway you'll find the historic Nu'uanu Pali Lookout. The location is steeped in rich history, myth and legend, enough to be worth the visit without the view. The view, however, is breathtaking, with the rural communities of Kaneohe, Kahaluu, and Waihole stretched out in strokes of myriad greens that somehow blend into rich purples with changing weather conditions. The view looks out from 1200 feet.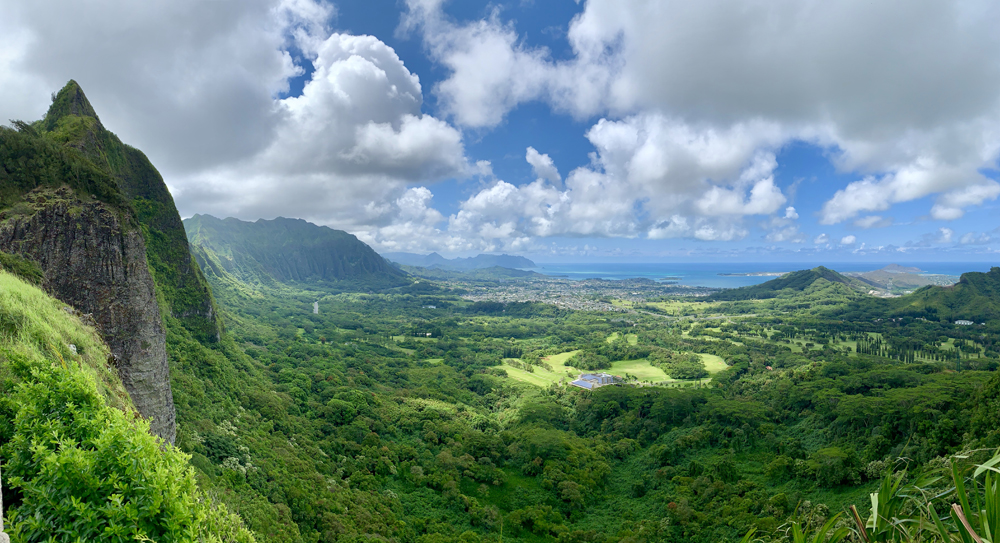 4. Laie Point State Wayside Lookout
Far out on Oahu's northeastern tip (about 60-90 minutes from Town), the Laie Point State Wayside can be enjoyed as a quick side-trip on a tour around Oahu. Its cliffs attract avid (and expert) cliff divers on calm days, and become dramatic seascapes when the trade winds kick up and whip sea spray into the breeze. It is also home to a dramatic legend involving giant magical geckos (mo'o) and tales of love and revenge.
Of course, the locations above are just a sampling of unforgettable lookouts on Oahu to be found, and are all in East Oahu. There are many more such views waiting for visitors all over Oahu. We here at Hawaii Aloha Travel are here to help you find them.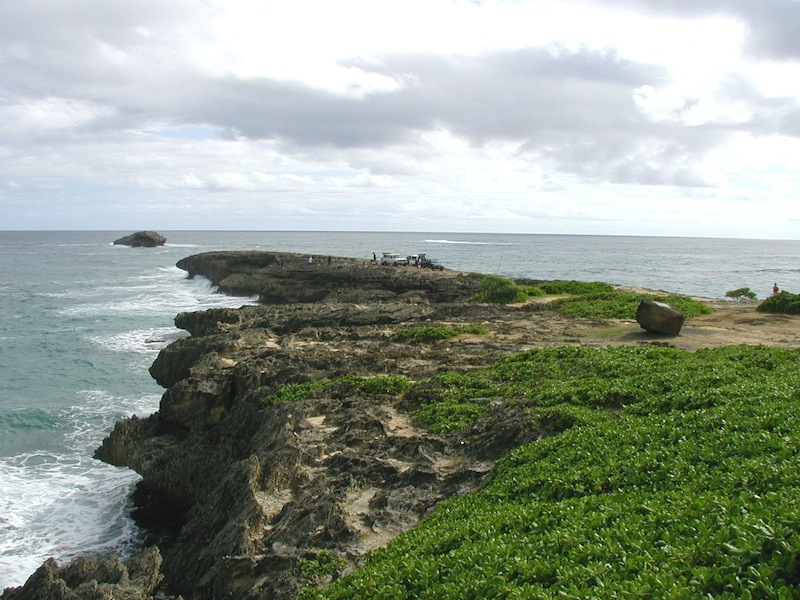 More Hawaii Travel Tips
Visitors should never leave valuables in their rental vehicles and always heed warning signs and advisories.
Visitors should practice defensive driving in the same manner that they would in another US state.
Visitors can contact their government office of the island they are staying on to learn more about park and recreation information, or you can use the official Hawaii portal to search what you are looking for.
Access to certain state parks may be limited. We recommend to check and make sure the park you are visiting is open to the pubic before you leave.
Where to Stay in Oahu
For more information on great places to stay in Oahu, check out our resource on the topic of Oahu hotels.
Oahu Must Do's
If you're looking for a list of Oahu's many staples that you absolutely must do before your trip is over, check out our article on Oahu must do's.