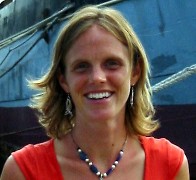 Abby Lapointe
808-237-5263

abby@hawaii-aloha.com

abbylapointe
Aloha! My name is Abby and I invite you to come and experience the beauty and magic of the Hawaiian Islands!!
Whether you're looking to hike the majestic Napali Coast in Kaua'i, whale watch in Maui, visit a volcano on the Big Island, or lounge on the beach and sip Mai Tais in Waikiki, my goal is to work with you personally to create your dream vacation here in Paradise.
As a kama'aina (Hawaiian resident), living on the windward side of Oahu, I have first-hand knowledge of the islands and all of their hidden treasures that can only be obtained from living here and experiencing it all. I travel frequently myself, so I understand how hard it can be to know where to begin when planning a trip to an exotic, unfamiliar destination.
By discussing your personal goals for your vacation, I will provide you with the best value packages and highest quality service. What do you want to do and see while you're here? How much are you looking to spend? Let me take the stress out of your vacation planning. I look forward to sharing our paradise with you! Please give me a call and we can discuss your travel plans.
Abby's Testimonials
Many thanks, Abby
Hi Abby, Many thanks for organising our holiday we had a wonderful time. The accommodation was excellent the village was all we expected it to be, we had some trips out which were enjoyable.It was wonderful to spend time with both our girls and their children. Thanks again Ange
Our trip was perfect...
Abby, We loved our vacation!  By the end of the week, we felt like we were Hawaiians!  :0)  That is exactly the type of experience we wanted.  We wanted to be immersed into the culture. Thank you so much for working so closely with us to plan the perfect trip.  We loved, loved, loved every minute of it! We've already been sharing your name with multiple friends and family members :0)  Hopefully you will hear from them at some point. We are very grateful that we connected with you when planning our trip. The Outrigger on Waikiki was wonderful.  The room was great!  The view…spectacular!  The staff…very accommodating!  Thank you for the welcome message and Honolulu cookies. The Circle Island Jeep Tour….WORTH EVERY PENNY!  We had Kaleo Pilanca as our guide and it was AMAZING!  If we had done nothing else all week…this tour alone was worth the trip.  He taught us so much about Hawaii, its people and its history.  We saw so much in that one day!  The beauty of the island is amazing and diving into the 'local' aspect added so much more! We had no idea that he is pretty famous in Hawaii.  A stand up comedian and performer and such.  No wonder we had a great day!  He's a professional. I've been listening to the radio station he works for since returning to the mainland.  The day of our tour, he did a shout out for us that night on the radio that was very personalized and made us feel very special (we were listening).  I've heard him do shout outs to other families since I listen daily but he really did a special shout out for us and became what feels like a friend of ours that day and it's our way of staying connected to the island by listening to him now :0)  He and my son follow each other's instagram page (my son runs a business on his page).  He and Hawaii are amazing and changed us in a good way.  I'm trying to hold on to that 'hang loose' vibe! As you can see, we had a VERY successful trip.  Everyone was so welcoming, relaxed, caring…is everyone that way always?  Do Hawaiians ever have typical day-to-day stress like the rest of the world?  Were we just seeing the happy, go lucky side of things as tourists?  I want to come back…and now!  I love that family and life come first before all else in Hawaii.  That is living! Can't wait to hear back from you again as any connection to Hawaii makes me happy :0) Have a great day!  Our trip was perfect…Mahalo nui loa!! Aloha, Cassy
Abby - the vacation was FANTASTIC!
Abby - the vacation was FANTASTIC! Thanks to you, your planning and assistance this was a seamless experience for us.  We could not have been more pleased. Here is my feedback as you have requested. Honestly - the accommodations were amazing.  LOVED having Jennie Dix (Errands on Maui) pre grocery shop for us.  That was awesome to arrive to a fridge full of what we wanted.  The built in Viking BBQ rocked.  And it was just great.  I could not imagine wanting to do it any other way.  Loved that they supplied boogie boards and floaties for the pool and beach during our stay.  Also cool that the pool supplied both pool towels and SPF50 sunscreen.  I found this to be very generous. We did heaps of beach time - pool time - three driving - travel days. Thank you, Abby - I will be sure to refer you to any friends that have interest in travelling to Hawaii. I sincerely appreciate all you did for us. Megan
We had a BLAST!!!
Hello Abby, We had a BLAST!!!  What a beautiful state.. (well, some people think it's a state, met some people that didn't).. We were very pleased with the condo that we were at.  It was very nice, the view was great.  (we didn't have time to use the pool, but it looked nice) We got there after check in time, but that went smooth.  They have a lock box, give you a code and then you get all of your paperwork etc. The only thing we were lacking were a couple of garbage bags.. they have a note that they want you to empty the garbage daily, but don't leave enough bags.  I am sure if I would have called someone they would have given us some, but we just made it work. Like I said, very pleased with it. Our rental car went without a hitch.. I have never returned a rental so easily in my life. We did the road to Hana and stayed at a little cabin there for a night.. then did the rest of the road the next day. We also went around the other side of the island to the "head" and around.. BEAUTIFUL.  I loved all of the different landscapes there. We went snorkeling (the condo had stuff we used) and saw some sea turtles.. that was cool and scary at the same time. Thanks so much for all of your help.  (Sara has come over and thanked me for referring you to her). Again, thanks. Terri
Everything was great
Abby, Thank you so much. Everything was great. Thank you very much for the welcome drinks. They were yummy. The Hotel (Sheraton Kona Resort) was great. Wonderful people nice room. Didn't do a whole lot of "tourist " stuff  because we just wanted to relax and unwind. My sister lives in Kona so we did some local things with them. Thank you again. We would absolutely use and recommend you again!!! Mahalo, Tim
Thank you Abby for making this honeymoon unforgettable
Hello Abby, Thank you very much for making this honeymoon unforgettable. It's been a great trip and with your help everything was so smooth. Thanks again for everything Abby. We do wish to be able to visit again. We'll definitely recommend you to our friends who plan on coming to Hawaii. Best Regards, Ahmed
Fantastic Vacation!
3/31/15 Abby, Everything was fantastic! We never made a luau. Maybe next time? I will definitely go back!  I let the hotel know what a great job you did! I  will Yelp you and your company, and I  will definitely recommend you whenever I get a chance. Thanks again! Shellie
Another terrific vacation in Hawaii
Abby, Tony and I had another terrific vacation in Hawaii.  Our beach front studio at Napili Kai Beach resort in Maui was incredible and the condo at Outrigger Kiahuna Plantation was great. God willing, we hope to return and will call you as well as recommend you to family and friends. Thanks again for making our vacation so enjoyable. Tony and Maureen 
The trip of a lifetime
Abby: Trip of a lifetime. Beautiful facilities, great scenery, the best weather, all spent with great company. Thanks much for making this a vacation memory unsurpassed by any other! Mahalo to you for all you did. It was simply the best! Best regards, Susan
We love Kauai
Hi Abby, We thoroughly enjoyed our vacation in Kauai & were very happy with the Kauai Beach Resort.  The accommodations were actually better than we expected, (unless you've been before you always expect the worst) we did get upgraded to pool view & the resort staff were wonderful.  The car rental worked out great & we were extremely happy that that was part of our package.  We absolutely love the island & we will go back.  We did a lot of travelling around and researching the areas....maybe next time we'll relax a little more....our highlight was likely the Captain Andy's sunset cruise.  They really did a wonderful job & we felt it was one of the best meals we had while there.....highly recommend!  We are gonna be back to Kauai....when? we're not sure but likely over the next couple of years & we will look you up.  Thank you for all your help....everything that you were involved with went off without a hitch. Cheers, Dave & Maureen in Summerland, BC