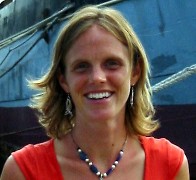 Abby Lapointe
808-237-5263

abby@hawaii-aloha.com

abbylapointe
Aloha! My name is Abby and I invite you to come and experience the beauty and magic of the Hawaiian Islands!!
Whether you're looking to hike the majestic Napali Coast in Kaua'i, whale watch in Maui, visit a volcano on the Big Island, or lounge on the beach and sip Mai Tais in Waikiki, my goal is to work with you personally to create your dream vacation here in Paradise.
As a kama'aina (Hawaiian resident), living on the windward side of Oahu, I have first-hand knowledge of the islands and all of their hidden treasures that can only be obtained from living here and experiencing it all. I travel frequently myself, so I understand how hard it can be to know where to begin when planning a trip to an exotic, unfamiliar destination.
By discussing your personal goals for your vacation, I will provide you with the best value packages and highest quality service. What do you want to do and see while you're here? How much are you looking to spend? Let me take the stress out of your vacation planning. I look forward to sharing our paradise with you! Please give me a call and we can discuss your travel plans.
Abby's Testimonials
Thanks again, Abby
Abby, We had a fantastic trip. Thank you so much for the help & we will call you in the future for our next vacation. I don't know what else you could of done to improve a perfect trip. Thanks again Karen & family
We had a wonderful and stress free vacation
Hello Abby, I just wanted to take the time to thank you for everything you did for me and my sister Jeanette. We had a wonderful and stress free vacation while in Hawaii. We did everything that was on our itinerary except snorkeling. We went ziplining instead and we also went parasailing as well. We had a fantastic and fun filled time. We met several people from Michigan as well. The people were so nice and pleasant. We could not have done this without you. When we plan our next vacation for 2018, we will definitely be reaching back out to you. I will send you a few pictures from our trip. Thanks again. Lowary
Our trip was AMAZING
Abby Our trip was AMAZING. We all enjoyed it. Our accommodations were perfect. The rooms worked out well and that was a relief. The only downfall was I think we packed way too many activities into the trip that we felt like we were on the go constantly but the excursions were fantastic. The consensus was the Jeep Tour was the best. Our drivers really out did themselves. The kids loved seeing the island. North Shore was by far the best place we visited. The beaches were just unbelievable. The local food was delicious. The food trucks probably served the best food around. Thanks to Lanai we found local ones by the Hotel. This was the first time ever using a travel agent for our trips and I have to say it was so nice not to be the one having to plan stuff. You really came through for us and it was a pleasure working with you. You were so quick to get back to me with any questions I had and I truly got to enjoy my vacation for once. Unless you can change the flight time (11 hours) there was nothing bad about our trip. We all enjoyed ourselves and were sad to see it end. I have already been giving your information out to people who now want to vacation in Hawaii. Again thank you for being an awesome agent for us. We are looking forward to planning our next trip in the future. Aloha Cathy
We had the time of our lives in Maui!
Aloha Abby, Oh my goodness we had the time of our lives in Maui! Thank you so much for all your help, you were great and easy to work with. We enjoyed going to see the play Ulalena, the luau, Road to Hana, and we also enjoyed the sunset sail (which was our favorite). Everyone was just so nice and welcoming. We also spent a few evenings on Front street. I personally loved seeing all the art galleries and local artist work. I went to school for fine arts so that was right up my alley. 🙂 I definitely plan on coming back, hopefully next year. My husband would like to go so we think that might be a possible trip. I will contact you for my next visit, guaranteed! I have already had people tell me that they want to go to Hawaii. I told them I would give them your contact information since you were so great and easy to work with. I also felt like everything we received in the travel package was reasonable in cost, which appealed to family & friends who also want to travel there. Thank you again and I will be saving your contact for my next visit to the Islands. Krystolyn
Abby, we did have a wonderful trip!
Hello Abby! We did have a wonderful trip! Thank you again, for all that you did to make it come together for us! We chose to keep things simple and relaxing, staying on one island. We picked Maui because we wanted a romantic setting to celebrate our 30th anniversary. It didn't disappoint! I will continue to recommend you and your agency to my friends and family. You did a great job pulling everything together for us! Warm regards, Mark and Patty
Already missing Kauai
Hi Abby, Alas, we are back and already missing Kauai. We can't thank you enough for your help and guidance in making our vacation such a wonderful trip. To start, the hotel was perfect -- upscale, just the right size, quiet and with impeccable service and amazing food. We walked by the other hotels nearby and were so happy we weren't there -- with thousands of beach chairs, loud families, etc. We'd recommend Koa Kea to anyone traveling to Kauai in a heartbeat. One other suggestion/request I wanted to share: when talking to customers who are traveling to Kauai, you could mention that if they're going on a hike, to the beach, or just hanging out in general, they can "check out" a dog from the Kauai Humane Society (http://kauaihumane.org/volunteer/shelter-dogs-on-field-trips/). This is a wonderful program, as it gets dogs out of the shelter for several hours -- giving them fresh air, exercise, socialization and love, and not to mention it exposes them to potential adopters. Plus it gives people the chance to get some 'fuzz therapy' as we call it with a dog in need. I realized that if more travel agencies and hotels -- even tour companies like the boat and movie tour -- knew about, and recommended, this program, it could save the lives of many dogs. (I think I mentioned that my dog was from the Kauai Humane Society, so it holds a special place in my heart.) Again, many thanks for everything! We will certainly be in town when planning our next vacation, and will happily refer friends and family to do the same. Kind regards, Kimberly
Hi Abby, we absolutely loved our trip
Hi Abby, We absolutely loved our trip. That Hyatt breakfast was the best food we had on Oahu.  The Luau at the resort was our best food on the Big Island. Both of the places we stayed were so lovely. It really was the best trip I have ever been on Abby!!  Thank you so much for making an amazing itinerary and finding us such nice places to stay!!! Ellen
Abby you are the best travel consultant
Abby you are the best travel consultant. We had a great time and enjoyed all of the activities you had for us. My mother doesn't want to leave. Everything was easy for us all we had to do was show up. I will be recommending you to EVERYONE in Vegas, so do not be surprised if u get a lot of emails from people I know family and friends.  My mom will be recommending u to family and friends in Fresno California as well. We definitely will try to come back next year.  She wants to come back once a year now. We loved the hotel and the view was amazing.  I can't thank u enough for this perfect package deal. You are a blessing to us.
We're back from a wonderful trip
Abby, We're back from Hawaii after a wonderful trip.  Thank you very much for your support and recommendations; and a particular thanks for the champagne and gift baskets in Kauai and Maui.  They were enjoyed on the veranda overlooking the ocean. Johnna & Erle Dail
Almost too good, Abby
Hi Abby, We were talking once again the other day about our wonderful Hawaii trip in the gloom of a Michigan winter and realized we never said THANK YOU to you, which we certainly meant to do. The trip was awesome, and the way it was laid out couldn't have been any better. Glad we went to Maui for the 3 days and experienced that, but we fell in love with Kauai. Hope we can go back there for 2-3 weeks sometime and stay right there. Almost too good, find ourselves unhappy now :). So many thanks to you for so much help. if we can work it out in the future, we will certainly contact you, Sincerely Doug & Lori