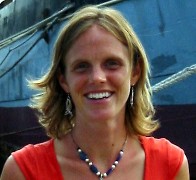 Abby Lapointe
808-237-5263

abby@hawaii-aloha.com

abbylapointe
Aloha! My name is Abby and I invite you to come and experience the beauty and magic of the Hawaiian Islands!!
Whether you're looking to hike the majestic Napali Coast in Kaua'i, whale watch in Maui, visit a volcano on the Big Island, or lounge on the beach and sip Mai Tais in Waikiki, my goal is to work with you personally to create your dream vacation here in Paradise.
As a kama'aina (Hawaiian resident), living on the windward side of Oahu, I have first-hand knowledge of the islands and all of their hidden treasures that can only be obtained from living here and experiencing it all. I travel frequently myself, so I understand how hard it can be to know where to begin when planning a trip to an exotic, unfamiliar destination.
By discussing your personal goals for your vacation, I will provide you with the best value packages and highest quality service. What do you want to do and see while you're here? How much are you looking to spend? Let me take the stress out of your vacation planning. I look forward to sharing our paradise with you! Please give me a call and we can discuss your travel plans.
Abby's Testimonials
Almost too good, Abby
Hi Abby, We were talking once again the other day about our wonderful Hawaii trip in the gloom of a Michigan winter and realized we never said THANK YOU to you, which we certainly meant to do. The trip was awesome, and the way it was laid out couldn't have been any better. Glad we went to Maui for the 3 days and experienced that, but we fell in love with Kauai. Hope we can go back there for 2-3 weeks sometime and stay right there. Almost too good, find ourselves unhappy now :). So many thanks to you for so much help. if we can work it out in the future, we will certainly contact you, Sincerely Doug & Lori
Something we will never forget...
Hi Abby, Michael and I had an amazing time in Hawaii!!! The weather was beautiful and we loved the activities. At first I was worried that I filled up our schedule too much but it didn't feel like that at all. I also should thank you and employees so much for the little details; the private sedan to/from airport honestly made us feel like celebrities lol, the champagne and chocolate in the rooms brought a smile to our faces, and ohh the beach side dinner at the Royal Lahaina resort was spectacular. Very romantic and the staff makes sure you are treated well. Pearl Harbor was a touching experience and our driver was very nice. We didn't catch anything while fishing in Maui but the crew made it fun and you can still catch a sun tan lol. The hike was also fun. We were a little surprised how physical the hike was (up rocks, in water, etc) but that's awesome. We did a little cliff jumping which is an adrenaline rush. The sunset dinner cruise was the perfect touch to relaxation..Dolphins were swimming by the boat for the majority of the trip. In all we were able to relax while drinking Mai Tai's but also experience things that we can't at home. We can't say enough positive things about the trip... so much we're planning a trip in 2018 with friends/family. Thank you so much for handling the reservations and setting up our itinerary. It was a perfect honeymoon!!! Something we will never forget... especially while we were sitting in 40 F degree weather right now 🙂 We will definitely keep Hawaii Aloha Travel in our minds for 2018. Jade and Michael
Thank you for the great rooms
Abby, We had an absolutely fantastic time on both Maui and the Big Island. Abby  THANK YOU for the  great  rooms that  you secured for us.  These were the  best  rooms  that we  ever  had  for  any  vacation... We  will be  telling friends  to use  you if  we hear about them  planning  trips.  Sandy  will be  posting more  pictures  of  our  trip on  Facebook Mahalo Sandy and  Jack
Luv you, Abby
Abby, Aloha …, We are very pleased to give you feedback on the wonderful vacation we had in Hawaii this summer.  It was beautiful, awesome, and so well planned down to smallest detail!  Your services took the way Ellen and I have traveled to a new level and it is no small compliment to you that we would ask for your help in any venue in which you could assist.  Since returning a number of weeks ago, we have given your name to many of our friends and have shared experiences of the impeccable service you provide through the stories we have told from the heart.  There have been times over the last weeks that our trip seemed to have been several years ago.  We lead busy lives and this summer has been absolutely packed.  Writing to you gives us the opportunity to once again call it all back. People ask what I like most about our trip to Hawaii.  This is what I tell them: ·         Fulfilling a dream by getting there after Ellen and I worked on it for over 25 years. ·         The hug that I got from my granddaughter for the wonderful experience that she had …. ·         Our decision not to sacrifice Jeremy to the volcano gods because he is going to live there and now we have a place to go and visit our wonderful, wonderful grandson. ·         Wayne joyfully taking the wheel so that I had more time to enjoy and reflect on the sights we were seeing. ·         Cynthia's constant wonder at it all and her ability to make everything so enjoyable.  She gets that from being a kindergarten teacher but her Mom and Dad will also take some of the credit. ·         Working with Abby to make all of this possible and here is what I say when I tell people that "we know a wonderful person who can make your trip to Hawaii all that you want it to be …." Abby, Ellen and I admire and respect who you are and what you do.  We are delighted to give you this story about our time in Hawaii and we truly mean it when we say that we would work with you again in a heartbeat.  It took some time to get this reflection to you but it has served a purpose for us in getting our arms around what was a wonderful lifetime experience.  We lead very busy lives and this would have come to you sooner were it not for our addiction the "always syndrome."  There is "always" something to do, something that needs to be done but it is so important that we take to time to express our gratitude to you for all you have done for us.  What we experienced is something to be kept alive. Thanks so much not only for what you did but for who you are.  Keep focusing on your dreams – Hawaii needs you.  Georgians love to say "come visit us" so you are always welcome into our home  We would love to meet you personally some day. Thanks again for all!!! We look forward to working with you again …, All of us say … "Luv you, Abby," Joe, Ellen, Cynthia, Wayne, Katie and Jeremy
We really enjoyed Hawaii
Dear Abby, Just recovered from jet lag and overwhelming work after one month of paradise vacation. I must say that you are one of the very few travel agents, I would recommend without any hesitations. Everything was well organized, smooth and the communication with you was more than perfect, especially in some critical moments. We really enjoyed Hawaii and for sure will return. Best regards Mahalo and Aloha Piotr and Emilia
Again, you were amazing
Hi Abby, You were great! We truly enjoyed Hawaii! It is so beautiful. The Sheraton Maui was great! However next time. I would truly just go off your opinion/suggestions. The Kaanapali beach hotel looked pretty nice! Great area, and we could have saved a lot more money! We snorkeled, did a booze cruise, went deep sea fishing! Went to a luau! It was all so amazing and can't wait to go back! I've already begun telling my friends and family about you. We took lots of pictures and have tons of memories to keep and share. Again you were amazing. Excellent customer service! Overall you get a 10 from me! Thanks and keep up the good work. In the future if there are any great deals let me know and I can tell my friends, family and clients as well! Thanks, Derry
This vacation was a dream come true
Abby, This vacation was a dream come true , everything was superb. We loved the view from our balcony--left view of the mountains, right view of the ocean! I am not a morning person, but I couldn't resist the Morning Sunrise each day. The tours were excellent . It was like going on vacation with your entire family--everyone was so friendly. We loved that everything was taken care of, and all we had to do was enjoy ourselves. I have told everyone to put this on their bucket list, and to use Hawaii Aloha travel. Please give our best wishes to our new Hawaii relative Uncle Dave, our limo driver. Thanks Again for everything! Mahalo, Denise
Thanks for your thoughtfulness
Hi Abby! I just wanted to express the utmost thanks for your thoughtfulness and generosity you've shown us during our vacation! My mother told me it was one of the most happiest times of her life, and you helped make that possible! I've already referred you to a few friends of mine, and I also wanted to forward this message from my mom (below). Thanks again!! Sincerely, Alisha
Abby made it just so simple
Bruce, I just wanted to let you know how incredibly helpful Abby was in assisting me booking some tours for my family in December. I felt she was just so genuine in all advice and a real passionate advocate for all things Hawaiian. My travel agent here in Australia offered me alternative to my original requests, so I contacted Hawaii Aloha direct. Abby managed, in 15min, to book exactly what wanted and was just so efficient in her dealings. Abby made it just so simple, that I tempted to book additional tours for our holiday in December. I hear you say on your podcasts all the time how passionate you and your agency is, and I have experienced this first hand. Thanks again! Louise
We loved Maui and the resort!
Hi Abby!  We had a FABULOUS time on our vacation!!  We especially enjoyed the Pearl Harbor tour on Oahu.  Loved our resort there as well (Outrigger Reef)! We loved Maui and the resort (Westin Maui Resort & Spa) - wished we'd had more time there but will probably return some day explore the island more! The only negative feedback I have is regarding the Luau.  We were supposed to have Preferred Seating, but they overbooked and so by the time we were checking in, there was no preferred seating left.  They did their best to get us as close as they could, but our seats were not great (kind of off to the side of the stage).  I was disappointed in the quality of it too.  It was basically just a bunch of fold up plastic chairs and tables set up in a grassy area near the Sheraton Hotel.  The sun was setting (which was pretty) but it was blinding us for part of the show.  Then it rained so we got cold and soaking wet.  And then it was windy, so our plastic cups were blowing over.  The show itself seemed amateur - I kind of felt like I was watching a high school production of a luau.  On the positive side, the food was really good!! All in all we loved our trip and loved working with you to get it scheduled.  Everything went very smoothly - transportation to and from hotels and transportation to the Pearl Harbor memorial was wonderful.  We have memories to last a lifetime and I know for sure I want to return some day to explore more of Maui...and perhaps another one of the islands. Thank you for all you did to help us with our trip! Wendy