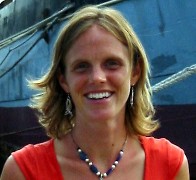 Abby Lapointe
808-237-5263

abby@hawaii-aloha.com

abbylapointe
Aloha! My name is Abby and I invite you to come and experience the beauty and magic of the Hawaiian Islands!!
Whether you're looking to hike the majestic Napali Coast in Kaua'i, whale watch in Maui, visit a volcano on the Big Island, or lounge on the beach and sip Mai Tais in Waikiki, my goal is to work with you personally to create your dream vacation here in Paradise.
As a kama'aina (Hawaiian resident), living on the windward side of Oahu, I have first-hand knowledge of the islands and all of their hidden treasures that can only be obtained from living here and experiencing it all. I travel frequently myself, so I understand how hard it can be to know where to begin when planning a trip to an exotic, unfamiliar destination.
By discussing your personal goals for your vacation, I will provide you with the best value packages and highest quality service. What do you want to do and see while you're here? How much are you looking to spend? Let me take the stress out of your vacation planning. I look forward to sharing our paradise with you! Please give me a call and we can discuss your travel plans.
Abby's Testimonials
Abby, it was absolutely magical!!
Oh, Abby, it was absolutely magical!! Hands down the best vacation I have ever had! Kauai was so very beautiful, and so different from the other Hawaiian Islands I have been to! I'm happy to be home and was excited to see my little Yorkie and my grandbabies, but I already miss Kauai. I've got tons of pictures and wonderful memories....Anyway, I can't thank you enough for helping arrange our trip! Mahalo for everything! Dana
Once again, THANK YOU
Good morning Abby, We've arrive back to cold and snowy Chicago. I would like to thank you very much for all of your help and services.  Our honeymoon was EXCELLENT, PERFECT, AWESOME!! We received your fruit plate in the room in Maui, thank you for that.  It came in handy throughout our stay.  We had a fridge so it stayed fresh until we finished it all. Everything went smoothly, from the car rental, to the check in, to the car service being perfectly on time.  Everything was fantastic! The special tower at the Royal Hawaiian was amazing, happy hour every night included food and drinks. Our trip was action packed, we drove to Lahaina, took the Road to Hana, drove up the volcano Haleakala, went to Pearl Harbor, had lots of beach time, and even saw the Honolulu Zoo. We couldn't have asked for a better honeymoon, and I just wanted you to know. I've already started to save for next years trip back.  I will definitely call you when that happens. Once again, THANK YOU Scott and Sheila
Abby, I appreciate the time and effort
Hi Abby, Thank you so very much for making this trip possible. Also all the assistance you provided during the trip was a great help. I appreciate the time and effort you took to carve out a holiday that suited us. And I cannot express how much we enjoyed the trip. An additional plus for the Friday Fireworks sail that you put in instead of Monday, it was like we were only 9 people there and felt as if its a private sail. Ill definitely recommend you to anyone in my circle who wishes to visit Hawaii. And hope you shall be able to plan similar trips for us - there are quite a few islands that remain :-) Thanking you once again for making our first anniversary memorable. Regards, Nasir
We loved the whole experience from start to finish
Hi Abby We loved the whole experience from start to finish.  The hotels were fantastic across the board, with a special mention to the Mauna Lani, which was one of the nicest and friendliest place we've stayed. The trips were all wonderful - I think our highlights were the volcano and the circle tour, but all of them were great. I would find it very difficult to choose between the islands we visited - each is special in its own way and we loved our time in all three.  I only wish we could have stayed a bit longer. I'll be sure to get on tripadvisor as soon as I've caught up a bit and give a shout out to all the hotels and trip providers ... We will be sure to recommend you guys to all our friends. And thank you so much for the shortbread! Thanks again Kate
We had a wonderful time on vacation
Hello Abby, We had a wonderful time on vacation and can only say that additional time would have been nice. As far as our accommodations were concerned, there simply couldn't have been anything we could have imagined would have worked better for us. All were clean, well-appointed and convenient to amenities....not to mention a degree of luxury we would not always have anticipated. We were upgraded to an oceanfront at Honua Kai on Maui, and what a lovely treat that was! We would not hesitate to return to any of the units we occupied. In addition, all of our arrangements for flights, rental cars, and transfers (as well as accommodations) were seamlessly coordinated and I have to commend you for efforts you put in to make our visit trouble free!  With the size of our group as well as the number of islands we visited, this was no small feat!  Thank you so much for taking such good care of us... The only thing we would do differently if we have the opportunity to return to Hawaii is to select perhaps 2 islands and spend a week on each, allowing for a more in-depth exploration of each. If we have the opportunity, we would certainly welcome the chance to have you assist us. Again, thank you so much for all of your help! Sara Felix
Royal Lahaina was a wonderful hotel
Abby, Very much enjoyed the trip on Maui.  Royal Lahaina was a wonderful hotel, very clean and great beach access.  Snorkeling was enjoyable and rain forest hike was awesome.  The only disappointment on the trip was "Start Me Up" sport fishing, we spent 8 hours trolling and caught 1 small Mahi fish.  My family would have been happier if the Captain would have offered to spend the last 2 to 3 hours jigging around structures to ensure everyone caught something.  I would suggest that future families be offered sport fishing and/or live bait jigging. Ps. Thank you for the welcome package, we enjoyed the chocolate covered macadamia nuts. Thank you, John
This was a terrific trip!
Hi, Abby. I haven't yet had a day off since our return from Kauai last Friday, but I've finally found a little time to tell you about our trip. First, thanks a lot. This was the first time in a long while that Chharvy and I have gone alone somewhere for fun. The Kauai Beach resort was quite nice and clean and we had a good view of the water from our balcony. Very satisfactory. The only disappointment was that there was no sparkling wine waiting for us from the hotel for our anniversary. They said they don't do that, but they do offer a 15% discount from your dinner bill and a free dessert at one meal, but this wasn't something that we would use, so we passed on that. The hotel did charge us $20 a day extra, without telling us what for, but since they didn't charge us to park our own car, we considered this a wash.  The buffet breakfast, at the resort, was very good. Wednesday, we traveled all around in our rental car, discovering all the delightful little towns and doing some shopping. The highlight of that day was Smith's luau which was fantastic from the moment we walked in. The staff, the Smith family members, the garden tour, watching a cooked pig being dug up from the underground oven, the all you can eat buffet (we saw Dolph Lundgren there) were all top notch. But, the show!!!! Best I have ever seen at a luau. Great seats and professional entertainment! Afterwards we found the family patriarch, the Mr. Smith who started the whole thing 60 years ago, nearby in his golf cart and gave him our thanks. So, thanks for everything. This was a terrific trip! Will call you when we want to set up our Maui trip next! Mike
Poipu was perfect for us
Hi Abby, We have very grateful for the package you putted together for us, these were awesome holiday! ACCOMMODATION: The Kiahuna plantation resort was outstanding and fulfilled our expectations. Location: Poipu was perfect for us, a tourism spot but quite enough compared to Kapa'a or some of the other locations of the north shore. Furthermore, the south coast seems to be the sunniest. Resort: Nothing to say, it was perfect. Friendly staff, great condo, very nice and green facility, and the beach ... a wonderful spot for snorkeling! ALAMO RENTAL CAR: Also no surprise, worked well. Fast return, the car we got was in a very good shape. HOLOHOLO: Great excursion, very friendly and considerate crew. A pity we could not go snorkeling to Nihau, the ocean was too rough, but the company was fair enough to reimburse a little part of of the fees. We had a great experience working with you and be sure that we will come back to you when planning further Hawaii holidays. Mahalo Ute & Philippe
All in all it was a fantastic trip
HI Abby. We are so glad you suggested the Lahaina shores.  It was an awesome place to stay.  Our room was nice and clean and the hotel staff was very nice. We went whale watching and saw two small whales up close.  Bunch of dolphins too. We went out to dinner several times with my old friends and I got to sit in with the band one night as well. The only problem we had was when we left and took the Maui bus to the airport.  We got to the transfer place fine but on the second bus that was supposed to be 10 minutes the driver didn't let us know when to get off and we had to go all around his route to get back to the airport.  We just made it time to jump on our plane. All in all it was a fantastic trip that we will remember forever.  It was an important trip for me as well.  Getting to spend time with my old and very close friends. Thanks for taking care of us. Brian
What a beautiful resort!
Abby, I am glad be went to Oahu. We had a really nice time. I loved Turtle Bay! What a beautiful resort! If we returned, I would really like to stay there again. We appreciated the fruit basket and bottle of wine that you sent to our room. Thanks! We did have a nice time and I am so glad I got to spend time with my husband, and got to see Hawaii. You did a great job of arranging things for us! It was nice to have someone who knew what they were doing with the arrangements. ☺ It was great working with you! Thank you, Tina