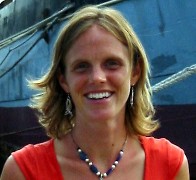 Abby Lapointe
808-237-5263

abby@hawaii-aloha.com

abbylapointe
Aloha! My name is Abby and I invite you to come and experience the beauty and magic of the Hawaiian Islands!!
Whether you're looking to hike the majestic Napali Coast in Kaua'i, whale watch in Maui, visit a volcano on the Big Island, or lounge on the beach and sip Mai Tais in Waikiki, my goal is to work with you personally to create your dream vacation here in Paradise.
As a kama'aina (Hawaiian resident), living on the windward side of Oahu, I have first-hand knowledge of the islands and all of their hidden treasures that can only be obtained from living here and experiencing it all. I travel frequently myself, so I understand how hard it can be to know where to begin when planning a trip to an exotic, unfamiliar destination.
By discussing your personal goals for your vacation, I will provide you with the best value packages and highest quality service. What do you want to do and see while you're here? How much are you looking to spend? Let me take the stress out of your vacation planning. I look forward to sharing our paradise with you! Please give me a call and we can discuss your travel plans.
Abby's Testimonials
We really enjoyed Hawaii
Dear Abby, Just recovered from jet lag and overwhelming work after one month of paradise vacation. I must say that you are one of the very few travel agents, I would recommend without any hesitations. Everything was well organized, smooth and the communication with you was more than perfect, especially in some critical moments. We really enjoyed Hawaii and for sure will return. Best regards Mahalo and Aloha Piotr and Emilia
Again, you were amazing
Hi Abby, You were great! We truly enjoyed Hawaii! It is so beautiful. The Sheraton Maui was great! However next time. I would truly just go off your opinion/suggestions. The Kaanapali beach hotel looked pretty nice! Great area, and we could have saved a lot more money! We snorkeled, did a booze cruise, went deep sea fishing! Went to a luau! It was all so amazing and can't wait to go back! I've already begun telling my friends and family about you. We took lots of pictures and have tons of memories to keep and share. Again you were amazing. Excellent customer service! Overall you get a 10 from me! Thanks and keep up the good work. In the future if there are any great deals let me know and I can tell my friends, family and clients as well! Thanks, Derry
This vacation was a dream come true
Abby, This vacation was a dream come true , everything was superb. We loved the view from our balcony--left view of the mountains, right view of the ocean! I am not a morning person, but I couldn't resist the Morning Sunrise each day. The tours were excellent . It was like going on vacation with your entire family--everyone was so friendly. We loved that everything was taken care of, and all we had to do was enjoy ourselves. I have told everyone to put this on their bucket list, and to use Hawaii Aloha travel. Please give our best wishes to our new Hawaii relative Uncle Dave, our limo driver. Thanks Again for everything! Mahalo, Denise
Thanks for your thoughtfulness
Hi Abby! I just wanted to express the utmost thanks for your thoughtfulness and generosity you've shown us during our vacation! My mother told me it was one of the most happiest times of her life, and you helped make that possible! I've already referred you to a few friends of mine, and I also wanted to forward this message from my mom (below). Thanks again!! Sincerely, Alisha
Abby made it just so simple
Bruce, I just wanted to let you know how incredibly helpful Abby was in assisting me booking some tours for my family in December. I felt she was just so genuine in all advice and a real passionate advocate for all things Hawaiian. My travel agent here in Australia offered me alternative to my original requests, so I contacted Hawaii Aloha direct. Abby managed, in 15min, to book exactly what wanted and was just so efficient in her dealings. Abby made it just so simple, that I tempted to book additional tours for our holiday in December. I hear you say on your podcasts all the time how passionate you and your agency is, and I have experienced this first hand. Thanks again! Louise
We loved Maui and the resort!
Hi Abby!  We had a FABULOUS time on our vacation!!  We especially enjoyed the Pearl Harbor tour on Oahu.  Loved our resort there as well (Outrigger Reef)! We loved Maui and the resort (Westin Maui Resort & Spa) - wished we'd had more time there but will probably return some day explore the island more! The only negative feedback I have is regarding the Luau.  We were supposed to have Preferred Seating, but they overbooked and so by the time we were checking in, there was no preferred seating left.  They did their best to get us as close as they could, but our seats were not great (kind of off to the side of the stage).  I was disappointed in the quality of it too.  It was basically just a bunch of fold up plastic chairs and tables set up in a grassy area near the Sheraton Hotel.  The sun was setting (which was pretty) but it was blinding us for part of the show.  Then it rained so we got cold and soaking wet.  And then it was windy, so our plastic cups were blowing over.  The show itself seemed amateur - I kind of felt like I was watching a high school production of a luau.  On the positive side, the food was really good!! All in all we loved our trip and loved working with you to get it scheduled.  Everything went very smoothly - transportation to and from hotels and transportation to the Pearl Harbor memorial was wonderful.  We have memories to last a lifetime and I know for sure I want to return some day to explore more of Maui...and perhaps another one of the islands. Thank you for all you did to help us with our trip! Wendy
Thank you for the dream vacation!
Abby, First, Hawaii is the most beautiful place we have ever seen.  We joked that we found Cliff the perfect job raking the beaches early in the mornings.  With the jet lag, we saw a lot of what happens around 3 AM until dawn. JEEP CIRCLE TOUR: Lanai was the best!  He was nice, accommodating, very informative, and we got great food tips along the way.  We saw the most beautiful things we ever saw in our lives on that tour.  Lanai was like ohana!  Our family adored him.  He also gave great restaurant advice that didn't break the budget. HILTON HAWAIIAN VILLAGE: Everything you said was true.  We were happy there.  As far as our room, I cannot believe there is a better view on the beach. The best review I can give goes to you, Abby!  You took care of my every need even when you, yourself, was on vacation.   I have several friends coming to visit after seeing all my pictures on Facebook.  I will refer them to you. You did more than I could have ever expected.  Thank you for the dream vacation!  It surely was better than we ever expected. I wish you much success!  You deserve it. Sandra
It was a perfect honeymoon
Hello Abby, We had an absolutely amazing honeymoon, thank you so much for all of your help. The trip was a fantastic combination of relaxations and adventures! The rental car company made it super easy to pick up our car when we landed. Great service.  The Telarani snorkel trip was so fun! Beautiful boat, well maintained, lovely captain and crew. The water was stunning. We actually upgraded to "snuba" when we were on the boat which was really different and awesome! So cool. We really enjoyed the Drums of the Pacific Luau at our Hotel. Beautiful show, and the dinner was delish/different. It actually started to rain during the show so it got a bit chilly, but the staff brought out plastic ponchos for everyone which was so kind (and silly!). We loved to see the traditional dances, it was awesome.  We had a lot of fun doing the Road to Hana on one of our free days. What a wild ride. The Rainforest Hike was my absolute favorite part of the trip. Our guide Tony was so informative, helpful, and funny. We had so much fun, the property we explored was out of this world beautiful. I loved it, I think I took at least 500 photos that day. So memorable. The view from our hotel room was stunning. I had tried not to set expectations for myself, as I was not sure what we would be facing. We are so grateful, the view was insanely beautiful, and luckily, pretty far away from the construction. The hotel ground were immaculate, I felt like I was at disneyland. The staff was so helpful and accommodating. It was a beautiful stay, so lovely. Overall we had the most amazing trip. It was a perfect honeymoon and we were so happy. I wish I was still there! heh! Thank you again for helping us plan the perfect honeymoon! Best, -Kate
All around just an amazing, incredible, unforgettable vacation
Hi Abby! We had an amazingly awesome vacation/wedding/honeymoon!!   Thank you so much for helping me out in planning everything out.  I will highly recommend you to all my family and friends if they need a travel agent to assist with planning their trips. Our wedding was all we ever dreamed it would be and much more!!   Tracy did an unbelievable job putting everything together and the photographer, Cassie did the best job ever on our photos.   The Hawaiian officiant that married us was awesome, as was Larry Endrina our musician.   After our dream wedding we had the best meal at Merrimans.  They gave us complimentary champagne, complimentary dessert, we had the best Mai Tai's we've ever had anywhere there!  Service was 5 start.   Thanks so much for recommending it, that was a grand slam!   Thanks so much for recommending Tracy as our wedding planner.   We loved her! All around just an amazing, incredible, unforgettable vacation!!! Thank you again and I will definitely contact you when it comes around to planning our next trip! Take care, Eric
Nothing could be improved
Hi Abby, Looking at what you did for us, nothing could be improved.  We were well pleased.  I specifically chose a Hawaii based agency because I expected you to be able to provide better service than one in Pennsylvania.  I was right.  The part I disliked the most was the way Waikiki had changed since I was there 50 years ago.  I guess that is what progress looks like. This was Alan's bucket list trip.  He has told anyone who would listen what a wonderful time he had in Honolulu. Thank you again for all you did to make his special trip a success. Fondly, Linda