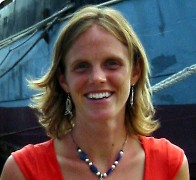 Abby Lapointe
808-237-5263

abby@hawaii-aloha.com

abbylapointe
Aloha! My name is Abby and I invite you to come and experience the beauty and magic of the Hawaiian Islands!!
Whether you're looking to hike the majestic Napali Coast in Kaua'i, whale watch in Maui, visit a volcano on the Big Island, or lounge on the beach and sip Mai Tais in Waikiki, my goal is to work with you personally to create your dream vacation here in Paradise.
As a kama'aina (Hawaiian resident), living on the windward side of Oahu, I have first-hand knowledge of the islands and all of their hidden treasures that can only be obtained from living here and experiencing it all. I travel frequently myself, so I understand how hard it can be to know where to begin when planning a trip to an exotic, unfamiliar destination.
By discussing your personal goals for your vacation, I will provide you with the best value packages and highest quality service. What do you want to do and see while you're here? How much are you looking to spend? Let me take the stress out of your vacation planning. I look forward to sharing our paradise with you! Please give me a call and we can discuss your travel plans.
Abby's Testimonials
We just love it!
Hi, Abby, Our vacation was just as wonderful, if not even better than the first visit.  I hope it's the start of a great tradition for our family to return to Hawaii often with your help!. We just love it.  The hotel was perfect for us! Being right on the beach was so easy and the rooms and breakfast were wonderful. I'll give you a message when we're ready to plan our next and definitely share your name with family and friends.  You are an excellent consultant! Have a wonderful holiday, too! Talk to you soon, Carolyn
Wonderful service
Abby, you have been terrific.  I have worked with other travel agents in the past and you are truly the best.  Your prompt attention to meeting our needs are AAA+ quality.  I feel assured that when my wife and I visit Hawaii, that our trip will be amazing due to your wonderful service.  I look forward to talking with you in the future as we proceed. Thanx Again Eric
A fantastic experience
December 3, 2014 Abby, We enjoyed a lot our vacation in Hawaii !!! In general everything was wonderful, but the area around Hana in Maui is even more incredible. It is like a paradise. Our accommodations were really nice, specially the one at Kailua-Kona . However, my wife preferred the one in Maui, at Napili , because it had direct access to the beach. A fantastic experience, a bit tiring ( we drive more than 1,000 miles, including Maui and Big Island ). There is a family, friends of us, that are interested on visiting Hawaii. If finally they decide to go, we will give them your contact. Thanks a lot for your wonderful organization. Regards, David
It was absolutely perfect
Aloha Abby. We loved our trip!  It was absolutely perfect. I was a little worried about the hotel but it turned out to be great. Everyone there was incredibly nice and helpful. The food was delicious. We ate their wonderful buffet and then didn't have to eat much the rest of the day.  We spent our credit on the Luau and then a little bit of food, and didn't even use the full $300 credit. The beds were very comfortable and they were kind enough to let us have a late check out. The pools and the beach were gorgeous. Thank you for all your help and will pass your name on to anyone that is heading that way. Julie
Perfect and worth every penny
Abby, I can't thank you enough for your help - the "mountains that you moved" to make my trip just as I wanted.  Let's recap the past year of planning:  We moved states, you said no problem.  We lost a passenger, you helped me cope with it. We needed more time, you found us a flight and nice place.  It was perfect and worth every single penny. Next trip is Maui sometime next year so keep me in the loop if you get any advanced notices on deals.  It will be us traveling alone this time (*snicker). Thanks again Abby!  I certainly appreciate the work. Sincerely, Craig
We will definitely be back!
Hi Abby! Many thanks again – we had a wonderful trip to Hawaii! I think we had the absolute perfect combination of islands – I am glad we decided to skip Oahu. If I could have changed anything I would have added 2 nights on Maui otherwise it was absolutely perfect. Regarding the hotels I found Sheraton Kauai OK but not great except for the location! The Marriott Hotels were absolutely great and Volcano House like a dream. All three beach locations were the best, I am so glad you chose them for us! The jounrey is unfortunately very long to/from Sweden but we will defenitely be back! Milla
We love Kauai!
Hi Abby, I just wanted to say a BIG thank you for organising my Hawaii holiday.  Especially when you organised the Kuaii Beach Resort at such short notice.  The accommodation you recommended was just great. Kauai turned out to be the best part of our trip. I loved the peace after Honolulu. Thank you again and I will certainly recommend you to others. Thanks again, Jenny, Alan and Jan
A wonderful vacation
Hi Abby, I've been meaning to email you.. sorry!   I've been so busy catching up with work after my wonderful vacation. It was seriously so amazing and you planned everything very well for me and my mother. We are actually planning on going there again next summer with a bunch of families for a wedding and I'd love for your help again.  Thank you again soooo much for everything. You will definitely be hearing from me within the year! Julieanne
Awesome Island Vacation
Aloha Abby! I just wanted to say Mahalo for the great vacation you arranged for us!  We had a fabulous time, especially in Maui. I have been suggesting to everyone to include Maui as one of their Island choices. I also mentioned what a great package we had and of course they wanted to know what travel agent I used. I will be sending some customers your way and hope you can give them a great deal like you gave Tarsha and myself. I look forward to working with you again in the near future for another awesome Island vacation. Mahalo, Melinda
The trip was surreal
Hi Abby, We certainly enjoyed our time.  I am not sure the word beautiful truly describes the islands. We were just in awe of the beauty.  I tried to memorize everything.  I did take 1004 pictures but (and I am sure you have heard this before) the pictures just could not do it justice. It was very nice to work with you also. As far as what we loved.... The anticipation was the first enjoyable part. It was nice to get the email updates from you. The Leis upon arrival were so special. I can almost still smell them.  I did keep them in the hotel room for several days just to enjoy the smell. The Ohano West staff were very nice.  The chocolate covered macadamia nuts were a delicious surprise also!  Thank you. Then we arrived at Aston Islander on the Beach.  We were a little concerned because the Ohana had been rated at 3.5 and saw that the  Islander was rated at a 2.  What a pleasant surprise from the moment we arrived.  The beachfront room was wonderful.  You were right we loved everything about Aston Islander. I could go on and on, but I think you get the point.  The trip was surreal and we loved every moment. Now we have beautiful memories....... Mahalo and may there be a next time. Darlene