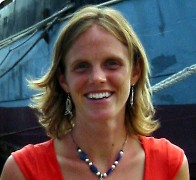 Abby Lapointe
808-237-5263

abby@hawaii-aloha.com

abbylapointe
Aloha! My name is Abby and I invite you to come and experience the beauty and magic of the Hawaiian Islands!!
Whether you're looking to hike the majestic Napali Coast in Kaua'i, whale watch in Maui, visit a volcano on the Big Island, or lounge on the beach and sip Mai Tais in Waikiki, my goal is to work with you personally to create your dream vacation here in Paradise.
As a kama'aina (Hawaiian resident), living on the windward side of Oahu, I have first-hand knowledge of the islands and all of their hidden treasures that can only be obtained from living here and experiencing it all. I travel frequently myself, so I understand how hard it can be to know where to begin when planning a trip to an exotic, unfamiliar destination.
By discussing your personal goals for your vacation, I will provide you with the best value packages and highest quality service. What do you want to do and see while you're here? How much are you looking to spend? Let me take the stress out of your vacation planning. I look forward to sharing our paradise with you! Please give me a call and we can discuss your travel plans.
Abby's Testimonials
Thank you Abby for making this honeymoon unforgettable
Hello Abby, Thank you very much for making this honeymoon unforgettable. It's been a great trip and with your help everything was so smooth. Thanks again for everything Abby. We do wish to be able to visit again. We'll definitely recommend you to our friends who plan on coming to Hawaii. Best Regards, Ahmed
Fantastic Vacation!
3/31/15 Abby, Everything was fantastic! We never made a luau. Maybe next time? I will definitely go back!  I let the hotel know what a great job you did! I  will Yelp you and your company, and I  will definitely recommend you whenever I get a chance. Thanks again! Shellie
Another terrific vacation in Hawaii
Abby, Tony and I had another terrific vacation in Hawaii.  Our beach front studio at Napili Kai Beach resort in Maui was incredible and the condo at Outrigger Kiahuna Plantation was great. God willing, we hope to return and will call you as well as recommend you to family and friends. Thanks again for making our vacation so enjoyable. Tony and Maureen 
The trip of a lifetime
Abby: Trip of a lifetime. Beautiful facilities, great scenery, the best weather, all spent with great company. Thanks much for making this a vacation memory unsurpassed by any other! Mahalo to you for all you did. It was simply the best! Best regards, Susan
We love Kauai
Hi Abby, We thoroughly enjoyed our vacation in Kauai & were very happy with the Kauai Beach Resort.  The accommodations were actually better than we expected, (unless you've been before you always expect the worst) we did get upgraded to pool view & the resort staff were wonderful.  The car rental worked out great & we were extremely happy that that was part of our package.  We absolutely love the island & we will go back.  We did a lot of travelling around and researching the areas....maybe next time we'll relax a little more....our highlight was likely the Captain Andy's sunset cruise.  They really did a wonderful job & we felt it was one of the best meals we had while there.....highly recommend!  We are gonna be back to Kauai....when? we're not sure but likely over the next couple of years & we will look you up.  Thank you for all your help....everything that you were involved with went off without a hitch. Cheers, Dave & Maureen in Summerland, BC
All in all – it was an amazing trip
Hi Abby, We have a WONDERFUL time!! The hotel was great – and I really appreciated that they emailed us a survey so we could give feedback.  Our room was huge and had a pretty great view considering we were a few buildings away from the ocean. All in all – it was an amazing trip! Such beauty – the water, the nature, just gorgeous. We lucked out too – a storm before we got there and another after we left, but we never saw a drop of rain! You live in a beautiful paradise. Aloha and Mahalo! Rochelle and Jim
A Great Trip
Hi Abby, We just got back from a wonderful trip to Hawaii thanks to you organizing our trip. Everything worked out very well and the resorts you have chosen were really great. We especially loved the Marriott on the Big Island which was your suggestion. Thanks, Helga
We just love it!
Hi, Abby, Our vacation was just as wonderful, if not even better than the first visit.  I hope it's the start of a great tradition for our family to return to Hawaii often with your help!. We just love it.  The hotel was perfect for us! Being right on the beach was so easy and the rooms and breakfast were wonderful. I'll give you a message when we're ready to plan our next and definitely share your name with family and friends.  You are an excellent consultant! Have a wonderful holiday, too! Talk to you soon, Carolyn
Wonderful service
Abby, you have been terrific.  I have worked with other travel agents in the past and you are truly the best.  Your prompt attention to meeting our needs are AAA+ quality.  I feel assured that when my wife and I visit Hawaii, that our trip will be amazing due to your wonderful service.  I look forward to talking with you in the future as we proceed. Thanx Again Eric
A fantastic experience
December 3, 2014 Abby, We enjoyed a lot our vacation in Hawaii !!! In general everything was wonderful, but the area around Hana in Maui is even more incredible. It is like a paradise. Our accommodations were really nice, specially the one at Kailua-Kona . However, my wife preferred the one in Maui, at Napili , because it had direct access to the beach. A fantastic experience, a bit tiring ( we drive more than 1,000 miles, including Maui and Big Island ). There is a family, friends of us, that are interested on visiting Hawaii. If finally they decide to go, we will give them your contact. Thanks a lot for your wonderful organization. Regards, David