Sometimes people come to Oahu and never step out of the action of Waikiki even though in a matter of minutes you can go from a bustling city to a magnificent rain forest. We've worked with thousands of customers over the years to fine tune our affordable All Inclusive Oahu Super Saver package which combines the best of the excitement of Waikiki with the serenity of the island.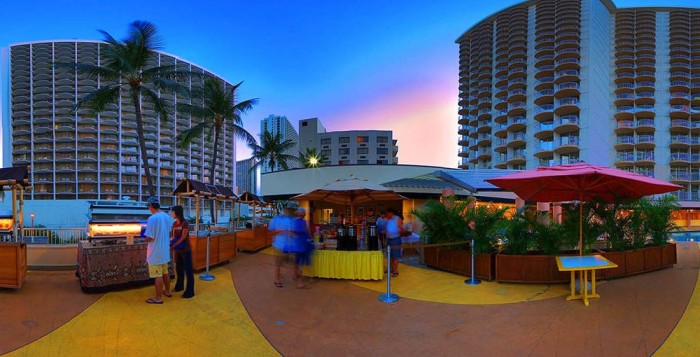 The Waikiki Beach Hotel is the hotel partner for our "Oahu Super Saver All-Inclusive" vacation package. The Waikiki Beach Hotel is in a perfect location on the east end of Waikiki across the street from a protected beach and the comfortable guest rooms overlook the Ocean. The hotel has a large freshwater pool and spacious sun deck. There are three restaurants on-site and WiFi available in the lobby and at the pool deck.
This package includes:
6 Nights at the Waikiki Beach Hotel
All Breakfasts and Dinners*
Daily excursions and activities
Transportation & meal gratuities
Hawaii Aloha Travel survival Kit
Pricing: Call 1-800-843-8771
Day – 1  Arrival
Upon arrival at the Honolulu international Airport you'll be greeted by local friendly staff, receive a traditional lei greeting and then transferred via mini coach to your hotel. Depending upon what time you arrive, you can either hang out and enjoy your new surroundings or just relax after a long plane ride.
Day 2 Trade winds Sail and Luau
On your first full day here in the islands we recommend starting off slowly so we have planned a nice breakfast at Lulu's* (get the Macadamia Nut Pancakes) and a relaxing day in Waikiki. Later in the afternoon you'll take a stroll to the Outrigger Waikiki hotel where you'll embark on a Trade-winds sail cruise in the blue waters off Waikiki. The journey takes you past famous Diamond Head crater and Black Point all while enjoying your favorite cocktail.
Once back on land you'll be heading out to the Ewa side of the island to experience the Paradise Cove Luau. This is one of the finest luaus in the islands with an amazing beachfront backdrop and a picture perfect sunset. Hawaiian games can be learned along with the art of lei making. You'll experience a traditional Hukilau, a celebration in which native Hawaiians participated to catch fish. There's a traditional Imu ceremony during sunset which unveils a hog that has been in a underground pit roasting all day. You'll enjoy plenty of food including kalua pork, lomi lomi salmon, chicken, fish and all the traditional Luau delicacies. Don't forget to try some poi!! The night draws to a close with a fun Polynesian dinner show featuring spectacular fire dancers.
Day 3 – Semi-Private Circle Island Tour
Today you'll jump into one of our own Hawaii Aloha Travel custom jeeps and experience Our Exclusive Oahu Circle Island tour. This semi-private adventure will be the highlight of your Hawaii vacation. You'll traverse the entire island of Oahu with a personal local guide and enjoy everything from the beautiful coastlines to our amazing rain forests. You'll get to experience the North Shore beaches, stop to see Green Sea Turtles and even get to enjoy lunch at one of our favorite shrimp trucks along the way and a whole lot more! There's no better way to learn about Oahu and have fun at the same time.

Day 4 – Pearl Harbor – City Tour
"A day that will live in infamy"; a line synonymous with that fateful day on December 7, 1941. Today you'll be headed to Pearl Harbor, the most visited attraction in all of Hawaii. You'll be transported via coach to the USS Arizona Memorial where you will board Naval diesel ferries to this historic location. The newly renovated visitor center will provide historical information about the events that led to this somber day. On your way back to the hotel you'll be treated to a city tour where you'll see historic sites such as Iolani Palace and the mission houses. The tour also passes the soundstage of the new Hawaii Five-0 and some of the locations featured in the show.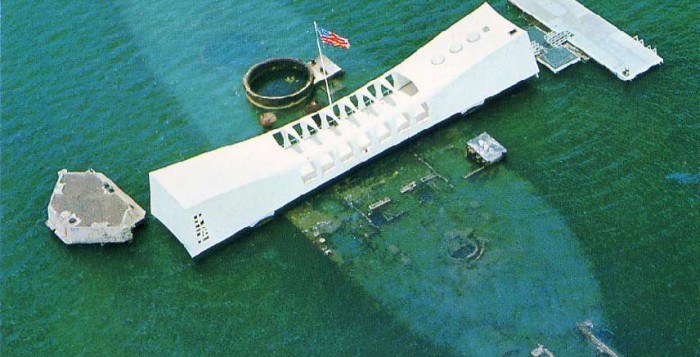 Day 5 – Hanauma Bay Snorkeling Adventure
Hanauma Bay is a popular snorkeling destination on the east side of Oahu. This will be your opportunity to swim in the sparkling blue waters of the Pacific with native Hawaiian fish species. The park includes a pavilion where you can learn about this fragile environment and also view a film designed to educate visitors about the importance of protecting coral which is the lifeline for all of the life which exists in the bay. You'll be picked up at your hotel and be provided with all of the equipment necessary for snorkeling. This adventure is perfect for beginning snorkelers.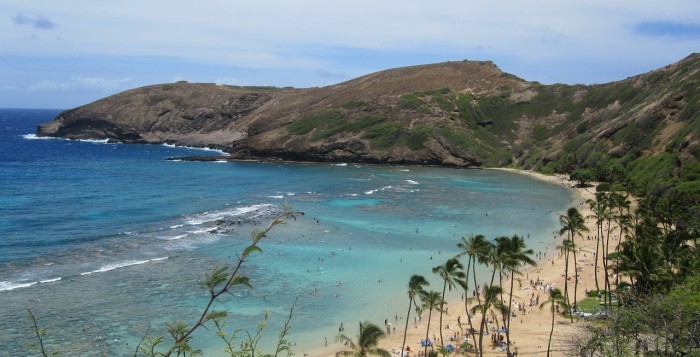 Day 6 – Waikiki Trolly Pass or Outlet Mall Shopping Spree
It's a day of exploration! In case you missed anything during the week, the Waikiki trolley is a great way to get around Waikiki and Honolulu without a car . You can take a shopping expedition or enjoy a Honolulu trolley pass. The trolley drivers are very helpful and will assist you if you need directions or advice. There are many trolley lines from which to choose and each will take you to different places such as Chinatown, The State Capital and Kapiolani Park.
In the evening you'll head off the shores of Waikiki on a Sunset dinner Cruise. This is a perfect way to end your vacation with family or loved ones. You'll enjoy an all-you-can-eat crab dinner or a mouthwatering steak. The Cruise features excellent Polynesian entertainment and a show called My Hawaii – Lei of memories. But the real star of the show is the magical sunset you're sure to experience while at sea. A perfect way to end a perfect vacation.
Day 7 – Final Day
Say Aloha to Hawaii Once packed and ready to depart for your home destination, you'll be transported via coach back to Honolulu International Airport. Your vacation may be over but the memories will last a lifetime. Most of our guests want to return again, with many visiting another island on their second all inclusive Hawaii Vacation!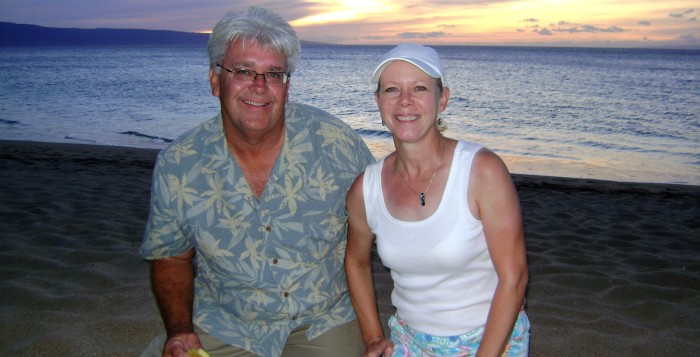 See more All Inclusive Hawaii Vacation Packages.