In France, it's said that Parisians can spot American tourists a mile away, but not because of their Yankees or Red Sox ball caps or clanging accents. No, it's the sneakers. Evidently, athletic footwear is to be worn only for athletics in the City of Light.
Similarly in Hawaii, nothing screams "tourist!" more than a pair of poorly chosen boardshorts (or "boardies" or "trunks") at the beach. Most Hawaii residents, male and female, who grew up in and near the ocean likely spent most of their childhood and adolescence in a pair of boardshorts. Utilitarian and durable, boardshorts are as ubiquitous here as flip-flops. If you're trying to fit in among locals at an out-of-the-way beach, here are a few things about boardshorts to keep in mind.
A good pair of boardshorts dries quickly. Companies are now making shorts from space age materials and polymers with names like "Omega 4-Way Stretch," but a decent pair of nylon shorts will also dry quickly. Quick-dry shorts save the wearer the discomfort of a damp bum and soggy car seat. For this reason, boardshorts should be worn "commando." Quick-dry shorts don't work if you've got damp underwear under them.
Boardshorts should fit snug at the waist, below the belly button, and reach the knees. This is presumably because most surfers have comical, knobby knees.
The fastener should be sturdy Velcro or a drawstring that laces like a pair of shoes. A drawstring that goes around the waist is uncomfortable, and simply isn't practical for more vigorous aquatic activity. Avoid snaps, because they rust, dent, fill with sand, and, for surfers, "ding" the deck of the surfboard.
Boardshorts should also have a "wax pocket" in the back or on the side of the leg. Some brands put the pocket on the side of the leg to avoid the discomfort of sitting on a bar of wax. It's not as practical to use a side pocket out of the water, as they flap when you walk with anything in them. The main thing is that the pocket is secured with Velcro and has a drainage hole for water and sand to escape.
Boardshorts should not outshine the sun. Outrageous, fluorescent designs were all the rage among young, rebellious surfers, say, 20 years ago. And it's not unusual to see youth surfers sporting them still. But they're youths, and don't look nearly as silly as a grown up in a pair of neon green boardies. Muted colors and designs are generally favored by those who live an ocean lifestyle in Hawaii.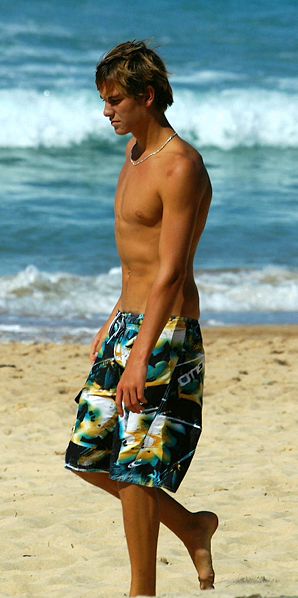 A quality pair of boardshorts can last for many years and many vacations.
I take a pair of boardshorts (and flip-flops) with me whenever I travel away from Hawaii, as I believe most residents do. The point is, boardshorts are not just for board sports. They are perfect for a hot tub at an alpine chalet or any other travel activity that involves getting wet without a wetsuit, and must-have for any seasoned traveler.
Surf apparel is a billion-dollar industry, and there a many brands and price points to choose from. Companies like Billabong, Rip Curl, Volcom, and Hurley are at the higher end, but more affordable companies are also now making quality products available at mainstream retail outlets and chains.