We went to the Hawaii Five-0 premiere on Monday and it was really exciting! i thought the crowd was going to be small at first but at around 530 people came pouring in and before it was over an estimated 10,000 people were in attendance topping the LOST premiere this past January.. There was some organization issues and the show started late because the cast was delayed. This is such a big deal in Hawaii it was no surprise that everyone and their brother wanted to get in on the act. We were "treated" to the mayor, former mayor, 4 musical acts, The UH marching band, former cast members, the show's producers, Leonard Freeman's ( the creator of the original-Five-0) daughters and the new cast members. However, what we all came for, the Hawaii Five-0 premiere, the pilot, delivered. I think this is a must see if you're a cop show fan but keep in mind the formula here is not the typical forensics style cop show we have seen in recent years, but instead a story with some rich characters, a lot of action, and skin (via grace park). The formula is old style but with new special effects, and hip characters, set against this beautify backdrop of Hawaii. Of course I share with a lot of folks in Hawaii the hope that this show will succeed; it's great for Hawaii and having this show in prime time every week is a huge marketing coup for us here in the Islands.
The Seafood festival is returning to Oahu's North Shore this year, Friday, October 1 & Saturday, October 2. In its 6th year, the the event celebrates Hawaii's seafood & farm fresh produce. A variety of Island chefs ranging from poke contestants, shrimp truck owners to fine dining will present a selection of dishes using ingredients from throughout the islands at three unique events during the Annual Seafood Festival. Saturday evenings 'Chef's' event is the grand finale Seafood extravaganza featuring six gourmet chef action stations, fine wines and the sounds of Ka'ala Boys on the main stage.
Oct. 1 Taste of the North Shore Shrimp Trucks
Oct. 2nd Sam Choy's Poke challenge & Chefs Under the Stars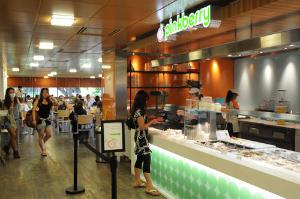 Traveling through Honolulu International Airport just got a bit more comfortable and whole lot tastier. It's all part of a multi-million dollar modernization project at the airport that is now complete.Forget junk food and cardboard meals .Travelers are overjoyed to find something fresh and delicious at the Honolulu International Airport. Three years ago, the state launched its $2.3 billion, 12-year airport modernization and remodeling plan.
Twenty-million-dollars has been spent to upgrade dining and shopping facilities for travelers, bringing Honolulu International up to par with the best of the best." The most recent renovation improves the main terminal food court with new additions like California Pizza Kitchen and the first Pinkberry frozen yogurt in the state. Officials say that with tourism on the upswing and industry experts predicting a boost in travel from Asia and abroad, officials say upgraded dining gives visitors a better taste in their mouth during arrival and departure.