We will be at the Hawaii Five-0 premiere next Monday Sept. 13th, streaming LIVE, covering the red carpet and the premiere episode at Sunset on the Beach in Waikiki. I have a feeling that we won't be the only ones streaming; yesterday we were up at the Waikiki Beach Hotel and a local radio station was scouting out the Coconut Room, 22 stories above the action where the premiere will be taking place. There's a lot of excitement and buzz in the air about the show and it's success. Most believe this is going to be a successful series for CBS. Some of the trailers we're seeing are full of action excellent special effects. We'll be getting there early on Monday and will start broadcasting just as soon as we get there at about 1PM Hawaii Time.
Waikiki Edition Set to open
The Waikiki edition is set to open up on schedule October 1. We're getting really excited about this new property which plans to giver guests a six star experience. We had a chance to actually see the property for the first time a few days ago but cannot share any pictures. To actually see it firsthand made quite an impact. The rooms are a lot bigger looking then I thought and the public spaces are so unique and fun! We still have some great rates for 195 per night and I and will be sharing with you more information about The Waikiki Ediiton when we are allowed to share with you.
Ziplining on Maui
A couple of months ago I did a podcast about ziplining in Hawaii. Over the years this has become a very popular activity. I have to admit it was something that I've never done before. We did some research on the various ziplining companies that are out there and made recommendations based on the research to our listeners. At that time I said I was definitely going to be doing this soon because it looks like just so much fun. Once in the past we were going to do this but chickened out but I knew that the next time I went to Maui I was definitely going to do it. Well I got my chance a couple of weeks ago when we took our trip to Maui.
There are several choices on Maui to zip. Our condo was on the West Side of Maui and didn't want to dive far so we went with Skyline Eco adventures in Kaanapali. Another option on the West side which I understand is equally as good, if not better, is in Kapalua with a company called Kapalua Adventures.
The first thing that you should know about the zip lining is there's two different types of harnesses that are used. Skyline Eco Adventures uses the old school harnesses and you must use two hands to hold on or to move while you're zipping either to the left or the right. The other type of harnesses is a swing which looks more comfortable however, you won't be able to do as much maneuvering as you would with the old school harness.
Most of the tours run anywhere from 3 to 6 hours. The one we took a total of four hours. You meet at the tour company's storefront and then are driven up to the site where the various zip lines are located. For us it took about a half-hour to get up to the location where we got ready to do the zip line adventure. The one we chose had eight different zip lines. They all had different difficulty and were at different heights. They give you a brief lesson on how to do the zip and then you're on your way. The basic thing you have to remember is to lay back and relax as if you're in an easy chair and you keep your arms straight, if you do that you'll be able to zip successfully across the lines.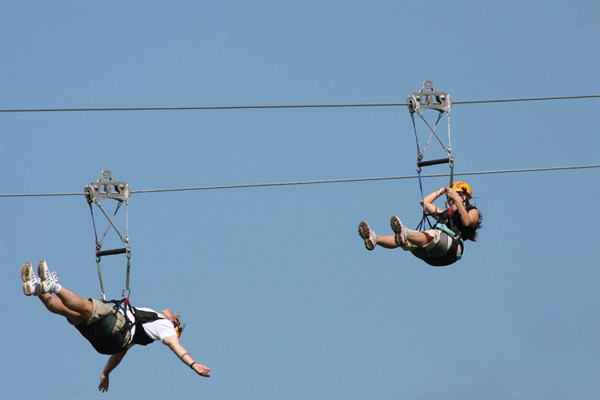 What happens is that once you start zipping the person on the other end waits for you and then slows you down so that you can land. These guys are pretty good at it too and very good at estimating where you'll be when you start to come in to the platform because they do it so many times. If you get stuck out in the middle or don't make it across you can easily be rescued but the main thing is to remember to not panic or freak out. I thought that the zip lines actually got more difficult as we went along. Once you get the hang of it, it's easy.
I would highly recommend that you try this out if you're coming to Hawaii. My wife ad I got addicted to it and can't wait to do it again, we're even considering doing it we go to Mexico next week. While I can't say that this is the best zip line because I haven't been on all of them yet this certainly was a great introduction to zip lining and a good one to do if you're a first timer.
If you need more information give us a call AT 1-800-843-8771 also check out the video we did of the experience