Kauai: Experience the Garden Isle, for only $1299.00 per person!**
Kauai is one of our less populated islands, making this special place ideal for relaxation, revitalization and fun. If you ask people who live in Hawaii what their favorite island is, very often it's Kauai. The reason is simple, no matter where you are on Kauai you're surrounded by natural beauty and majestic scenery. The island really does have it all; amazing waterfalls, spectacular hikes and grandiose canyons. We have created a unique and affordable All Inclusive Kauai experience by combining the best accommodations, meals, and activities to make your experience filled with memories that will last a lifetime.
This Package includes:
4 Star Hotel accommodations at the Kauai Beach Resort- beachfront
Airport Transfers & Lei Greeting upon arrival
All breakfasts and dinners*
10 alcoholic beverages per couple (beer/wine/well cocktail or tropical)
Waimea Canyon tour, Hanalei Valley Tour
Hawaii Aloha Travel Welcome Pack
Tour guide gratuities not included
Day 1 – Arrival
Upon arrival at Lihue International airport on Kauai you will be met by a hotel representative, receive a traditional Lei greeting and be transferred via a minibus for a short ride to the Kauai Beach Resort hotel. You've come a long way so it's a good idea to relax and get ready for the fun that lies ahead.
Day 2 – Waimea Canyon Tour
Your first day on Kauai begins with a journey to Waimea Canyon. Ironically, this small island has a huge spectacular canyon!! It's actually so big that no matter which direction you go, it can't be missed. Our knowledgeable tour guides will provide details about how the canyon was created over 6 million years. You will learn about the history of this canyon and the importance it played in the lives of the Hawaiian people. Along the way you'll travel through the quaint small towns of Koloa and Waimea town. You'll make stops at spouting Horn and the Hanapepe Valley lookout.

Day 3 – Free day
Relax you deserve it! For your third day here on Kauai it's time to relax. This is your chance to take a deep breath and take it all in and enjoy the serenity that will be your surroundings. Many of our guests like to lounge at the pool or just take a stroll along the beautiful Coconut Coast beach. In the evening, after the torch lighting ceremony, you will enjoy a beautiful sitdown dinner during sunset at the resort. Optional tours are available if you want to be adventurous and continue to enjoy what the Garden Isle has to offer.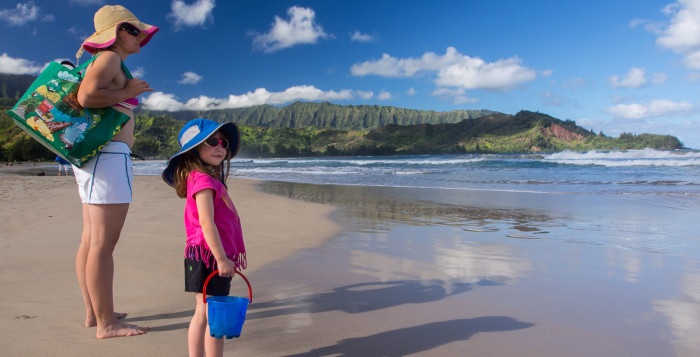 Day 4 – Alii Movie Excursion & Scenic Hanalei Tour
You've heard of Puff the Magic Dragon right? Well, Hanalei Bay is where he lives and it's the largest bay on the North Shore of Kauai. This is a great sightseeing tour with a twist. You won't see Puff but you will see movie locations of some of the most popular films shot in Hawaii. The tour covers most of the island with several stops including Cocoa Palms, where Blue Hawaii, Fantasy Island, Pirates of the Caribbean and more were filmed. The tour also takes you to some of the most breathtaking views in Hawaii including Moloaa Bay, Opaekaa Falls, Wailua Falls and Hanalei Pier. Many of our guests tell us that this was the highlight of their trip to Kauai.
Day 5 – Life's a beach !
After yesterdays long and fun-filled day it's time to relax and wind down from your fabulous trip to Kauai. You could take the day to do whatever you want, after all it's your vacation!
Day 6 – Departure
Well all good things must come to an end but you'll have a lifetime of memories to take home. Once you are packed and ready to go a minibus will transfer you back to Lihue international airport.
Meals*
Your meals will be served at the Naupaka Terrace located adjacent to the lobby where you'll enjoy a daily breakfast and a variety of Hawaiian cuisine entrees for dinner. You'll feel the tropical breeze blow as you savor the taste of Hawaii. This is the perfect place to begin and end your day in paradise.
**NOTE: The Carefree Kauai Getaway runs throughout the year. NO HIDDEN FEES. ONE LOW PRICE INCLUDES EVERYTHING. Total cost $1299 per-person based on double occupancy, inclusive of all taxes, fees and gratuities. Upgrades to oceanview rooms available for $150pp. Prices do not include airfare. Ask our agents for discount air specials.
See more All Inclusive Hawaii Vacation Packages.