Molokai Hotels
Molokai is known as Hawaii's "Friendly Isle." It's a close knit island community, widely regarded as the "most Hawaiian." It offers deserted beaches, lush rainforests, dramatic sea cliffs, and all of the visual beauty one would expect from a Hawaii vacation. But there are few roads and not a single traffic light. Molokai residents proudly defend their rural lifestyle. There are no shopping malls. Everything beyond the town of Kaunakakai is remote. This means that planning and booking a Molokai vacation can be tricky. Our agents are experts on vacationing on Molokai, and have first-hand experience and knowledge of the activities and accommodations it has to offer.
Kaunakakai is the business center of Molokai, home to the harbor that welcomes the cargo barges that bring supplies to the island two times per week. It is also the destination of a ferry that brings workers to from Maui to Molokai. Kauanakakai is Molokai's population center, but it's rural, quiet, and it seems that everyone knows everyone there. Molokai is the kind of place that even lifelong residents of Hawaii seek out when they want to get away from it all. It is as far from the lights and modern conveniences of Honolulu that a person can get.
Molokai is probably most famous for Kalaupapa National Historic Park, a former leper colony that continues to house a small number of former Hansen's Disease patients. At its peak, 1,200 men, women, and children with Hansen's Disease were quarantined and banished to Kalaupapa by edict of King Kamehameha V. The colony was established in 1866 at nearby Kalawao before moving to Kalaupapa soon after. Access to Kalaupapa is limited. There are no restaurants or movie theaters there. It's quiet and very close knit. There are stunning views and churches to visit there.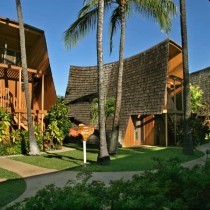 Hotel Molokai is quiet and remote beachside hideaway on Molokai's southern shore. The dog-friendly hotel is located on Kamilola Beach and close to Hawaii's only barrier reef. Accommodations include bungalows…
See more Hawaii Hotels.