Each year at the sprawling Ho'omaluhia Gardens in Kane'ohe, the sounds of bluegrass music waft over the lawns and through a forest teeming with vibrantly colored flora and filled with the songs of a variety of bird species. The Bluegrass in the Ko'olaus Campout, April 25-28, is Hawaii's largest gathering of bluegrass pickers, pluckers, and singers.
The event has grown each year, and now has a maximum capacity of 200 attendees. Campers must be registered Bluegrass Hawaii members, but the campout alone is worth the modest $10 annual membership. Bluegrass in the Ko'olaus is otherwise free and offers multiple workshops lead by some of the most respected musicians in bluegrass and Americana music. It's a warm and friendly 3-day immersion into all things bluegrass.
Colorado-based singer-songwriter Patty Clayton will lead a songwriting workshop. Patty is a recipient of the Western Music Association's Western Swing Album of the Year for her Dancin' in Denver, and Female Performer of the Year. She was also awarded the Will Rogers' Award for Western Female Vocalist of the Year by the Academy of Western Artists.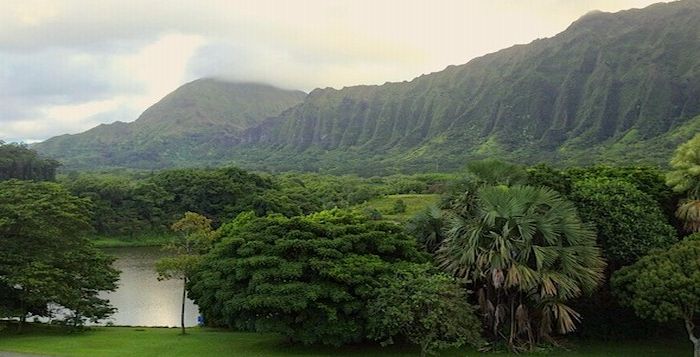 Scott Foxx is a multi-instrumentalist (guitar, mandolin, banjo, fiddle) leading a fiddle workshop at the campout. He has played [professionally in 48 states, and has shared stages with luminaries like Taj Mahal, Country Joe McDonald, Kentucky Headhunters, and the Fabulous Thunderbirds. More than a dozen workshops will be held over the three days of the campout.
In addition to the many workshops on offer at Bluegrass in the Ko'olaus, there is also a number of "open jams" and performances by Hawaii bluegrass favorites like Saloon Pilots, Patty Clayton, and the North Shore Ramblers.
Bluegrass Hawaii also provides member campers with dinner on Friday, breakfast, lunch and dinner on Saturday, and breakfast and lunch on Sunday. Bluegrass in the Ko'olaus also offers a Children's Movement and Dance Workshop with Shana Brown on Sunday.
Hawaii's bluegrass and Americana music community is tight-knit, thriving, and always welcoming to new members. Bluegrass in the Ko'olaus a gathering of tribes, with visitors from all over Hawaii and the mainland making the trip to enjoy a weekend of music, instruction, food, campfires, and rampant smiles and laughs.
And while Bluegrass Hawaii looks after and provides for its members generously, campers are responsible for bringing their own:
ALL FIREWOOD AND KINDLING
coffee mugs
stove or hibachi and charcoal/fuel
all beverages
cooler and ice
insect repellent
rainproof tent and rain gear
sleeping gear
lanterns and flashlights
IMPORTANT – folding chairs to sit around the campfire!!!