It is a big day for a really big ship!  The USS Missouri is back in place at Pearl Harbor after three months in drydock undergoing an18 million dollar "maintenance and preservation" project. She returned to battleship row yesterday and will reopen to tours January 15. An official opening ceremony will be held January 30.
Because the ship is not allowed to fire it's engines, it was pushed and towed by tug boats which also maneuvered it into place. This is no small accomplishment – the USS Missouri is bigger than the Titanic!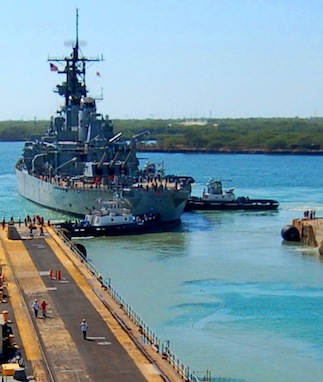 The ship was last drydocked in 1992, just after being decommissioned as an active battleship. It was later donated to a nonprofit organization that operates it as a historic attraction and memorial. Although the Mighty Mo had a long and illustrious career, it holds a special significance to Hawaii. Pearl Harbor shipyard workers resurrected the Pacific fleet after the attack on December 7, 1941. For many of today's shipyard workers, this work on the USS Missouri was the only time they will take part in the drydocking of a US battleship. And World War II formally ended when Japan signed the articles of surrender aboard the USS Missouri in 1945.
The USS Missouri is part of the Pearl Harbor area, along with the USS Arizona and visitor's center. Boat tours to the visitor center will be interrupted soon as part of the construction of a new visitor center. The tours will not run January 11-15 and February 1-5. The new center is scheduled to be completed by next December.
Seeing Pearl Harbor is at the top of the list for most of my visitors from the mainland. These improvements will enhance an experience that is already profoundly moving. There is more specific information available in two posts that Jim Winpenny wrote earlier on the USS Missouri and the USS Arizona . Be sure to note the restrictions on bags – that's something many people seem to miss. I'd like to thank the USS Missouri for providing the photos for this post. Keith DeMello was kind enough to send them, they were taken by Mike Weidenbach.