Who says you need to stay in a five-star hotel when you visit Hawaii!? Instead, consider taking the rustic route and renting a cabin in the mountains or right on the beach. Your pocketbook will thank you, and so will your family, since there's no place better to bond.
Read-on to learn about three places where you can rent a cabin in Hawaii:
1. Bellows Air Force Base (Oahu): Bellows Air Force Base on Oahu features 109 beach-side cabins, eight air-conditioned condo units, 55 family campsites, 10 cedar camper cabins and two recreational vehicle sites. But, it's the cabins which mix the comfort of a structure with the excitement of being outdoors. The furnished cabins sleep four adults comfortably and feature a fully-equipped kitchen and dining/living area. Guests are allowed to pitch one canopy per cabin (15'x15′ maximum). The cost is $75 – $95/night, much less than a hotel!
Maximum capacity: Six people (Extra overnight guests require additional accommodations.) A maximum of six occupants per unit are allowed from 10 pm – 8 am and 16 occupants per unit from 8 am – 10 pm.
Basic amenities: One queen-size bed, Two twin beds, Ceiling fans, Sleeper sofa (linen available upon request), Dining table & chairs, Television & DVD player, Stove, Refrigerator,  Coffeemaker, Microwave, Toaster, Dinnerware & flatware (for six people), Cookware (pots & pans), Cooking utensils, Iron & ironing board, In-room safe, Charcoal grill, Picnic table, Free Wi-Fi access
    2. Kokee Lodge (Kauai): Kokee State Park offers a variety of different cabins, with different features and price-points.
The

Lehua

Cabin: Two Bedroom; King Bed and Two Single Beds- one shower/tub bathroom.
The Cedar Cabins: Two Bedroom; Queen Bed and Two Single Beds- one shower bathroom.
The Red Cabin: Two Bedroom; Queen Bed and Two Single Beds- one shower bathroom.
The Red Studio Cabin: Queen Bed and Shower Bathroom.
The Duplex Cabins: Queen Bed and Three Single Beds; Shower Bathroom.
Amenities: 8 plates/bowls/glasses/spoons/forks/knives, Basic utensils-spatula/mixing spoon/can opener/sharp knife/bottle-wine opener, 2 mixing bowls, 2 skillets/ 1 boiling pot/ 1 sauce pan/ 1 cutting board, Toaster and Coffee Pot, Electric/Gas Stove with Oven, Microwave, Refrigerator/Freezer, Dish soap/ Sponge / Cleaning supplies.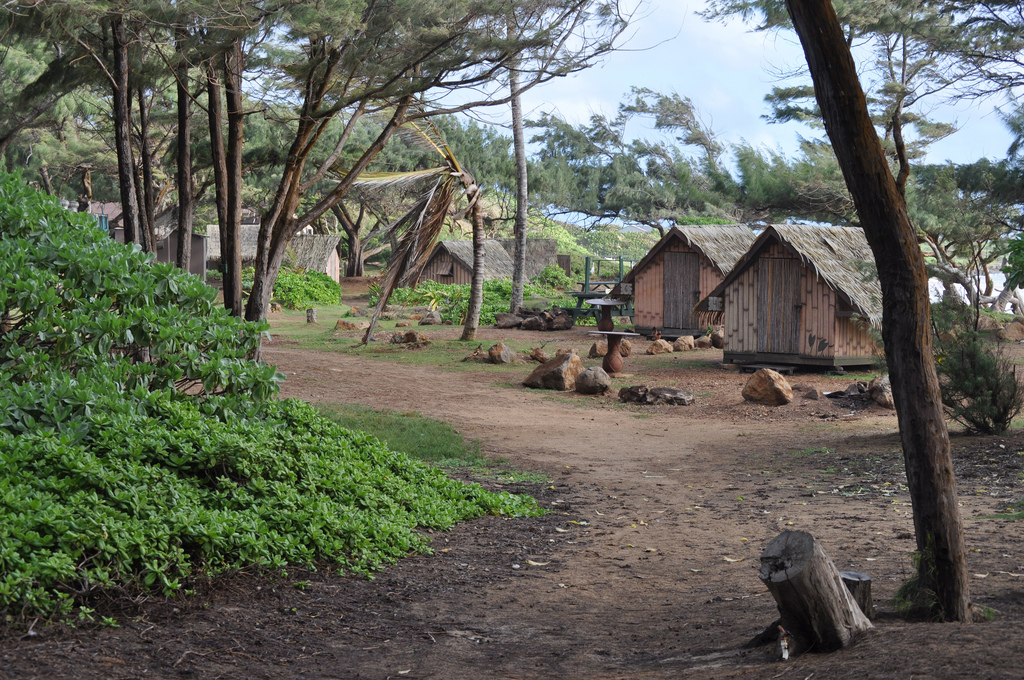 3. Malaekahana Beach Campground (Oahu): Besides tent and vehicle camping, Malaekahana Beach Campground offers a variety of structured accommodations:
Plantation Hales: At $52.82 per night, these are quite a bargain! Each sleeps up to 4 guests, with an optional lock. There's no electricity or plumbing, but you have access to outdoor beach shower and toilet facilities. The site can also accommodate more guests via tent camping in the surrouding area. These practical huts resemble the quintessential homes from Kahuku's sugar plantation era. Plantation huts are constructed out of wood, board and baton siding, and a corrugated roofing material. Dark forest green walls with white trim and a brick-red roof. Each plantation hut totals 96 (interior) square feet, which will sleep up to four people, and have a 72 square foot lanai.
Plantation Suites: $117.65 per night. Each sleeps up to 4 Guests and features an outdoor beach shower in immediate area on premises. You'll have electricity and indoor bathroom, as well as a spacious interior. The site san accommodate more guests via tent camping in surrounding area. Suites are approximately 480 square feet (interior) with a 128 square foot lanai, each plantation suite features a queen-size bed and a bunk bed set, eight lockable windows with screens, a lockable front door and maximum interior space for comfort. The exterior is also designed to mimic the same color scheme and roofing as the plantation huts to maintain the plantation era theme of the Campground.
Tutu's

Hale

Pavilion: $388.24 per night. Sleeps up to 20 Guests in a community of 5 Hale's and a Generous Pavilion. You have exclusive bathrooms and outdoor showers. The site can accommodate more guests via tent camping in surrounding area. Five hale's are strategically spaced to accommodate privacy and communal gatherings. The pavilion itself is made out of wood and be painted with the same color scheme as the plantation huts. This quaint village is provided at a group rate with its own toilet and shower facilities.
There are tons of reasons to rent a cabin in Hawaii! You can save money, feel rustic, and bond with your family away from the hustle and bustle. So, explore your options, and see which cabin suits you best!