Thanks to today's digital society, traveling has become a lot easier for globe-trekkers and vagabonds looking to stay connected. Finding the next WiFi hotspot seems to be almost equally as important as finding the next gas stop. Lets face it, we cannot live without our virtual reality that is Google, Facebook and Instagram. Traveling just would not be the same!
With that said, the Kakaako district on Oahu's south shore recently activated a free, public WiFi network – supposedly the fastest and most powerful of its kind in the nation. The network ("Our Kaka'ako WiFi") is accessible on any wireless device throughout the nine-block neighborhood. The Kakaako district includes areas within Ala Moana Boulevard and South, Cooke and Halekauwila streets. WiFi users can wander through the neighborhood with seamless connection – thanks to the 20-plus wireless access points placed throughout the community. WiFi users also do not have to worry about getting kicked off of the network due to a system overload; the network can accommodate multiple users at one time. The recent launch coincides with the redevelopment of this urban Honolulu district through beautification projects and co-op efforts.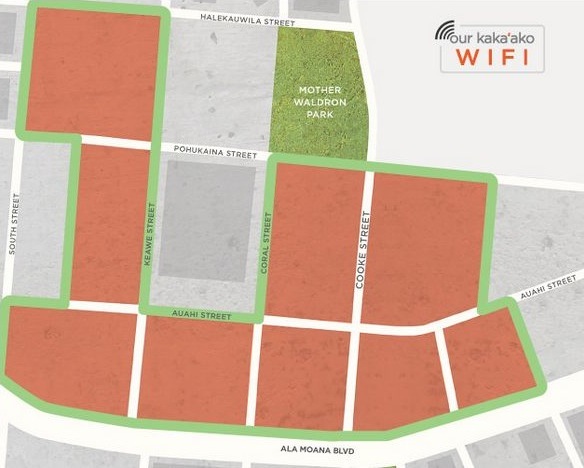 What does this mean for Oahu visitors? It means more opportunities for finding a virtual connection; a connection much needed in planning your day's agenda or mapping out your next route for fun. Whether it be on your smartphone or on your tablet, a dependable WiFi connection can make all the difference in your vacation planning. I try to think back at what traveling had been like without the internet and digital connections; it almost seems unfathomable to me – tracing routes with a pen on physical paper maps, looking up numbers in the yellow pages and so on and so forth.
Now, that information can be instantly accessed with one click of a button. Pamphlets and tour books that once weighed down your day bags can now be accessed through a paperless form. The Kakaako network connection boasts an upload and download speed up to 10 times faster than most home Internet connections. That means less time wasted waiting for things to download and more time to enjoy the activities and places you read so much about in the digital world.
Of course, visitors can get connected at their hotel rooms or lobbies, or at coffee shops around the island, but having a network for an entire district is very new for Hawaii. I know that there is a district in San Francisco that launched a similar neighborhood-based network, with excellent feedback and results. Hopefully, the Kakaako district network will be just as successful and beneficial to many.