Named Billboard magazine's "2013 Artist of the Year" and awarded with "Best Pop Vocal Album" at the Grammy's, Bruno Mars has done a lot to make Hawaii proud. He's shared the warmth of the aloha spirit well beyond our Hawaiian Islands and made a name for himself to music lovers across the globe.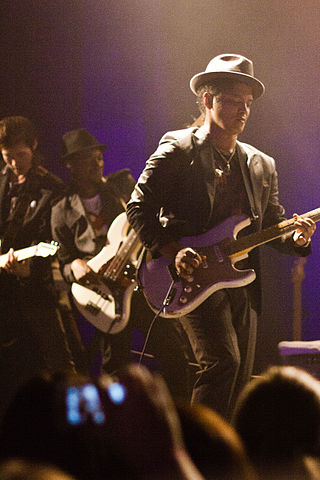 In April, he will return to where it all began – kicking off his "Moonshine Jungle World Tour" in Honolulu with two concerts at the Blaisdell Arena. So if you have already planned or are planning a trip to Oahu in April, then consider getting tickets to one of Bruno's shows.
Tickets go on sale on Monday, Feb. 3, 2014 at 9 a.m. It's easy for fans to buy tickets from abroad, as they can be purchased by phone (1-800-745-3000) or online (www.ticketmaster.com). Otherwise, ask a friend or a relative from Hawaii to pick up a ticket for you at one of the Ticketmaster outlets or the Blaisdell box offices.
This will be Bruno's second concert in Hawaii, so you can already bet it will be bigger and better than the first. Plus, nothing beats seeing this amazingly talented singer perform in his hometown. There's definitely the likelihood of Bruno doing something extra special on stage for his fans!
Tickets costs $99.50, $89.50 and $69.50. A bit on the pricier side but to me, that's worth every penny. I have yet to see him live in concert, so you can bet I'll be waiting in line when tickets go on sale. (As a side note, the Blaisdell box office announced that there is no advantage to being first in line because this time around, they will be selling tickets via a token system. Tokens will be issued to those in line and randomly called in order.)
If you will not be in Hawaii in April or rather not spend the money on concert tickets, then be sure to watch this Hawaii guy during the Super Bowl half timeshow! Bruno will be the main performer on Sunday, along with Red Hot Chili Peppers. But this isn't the first time he's performed for a football halftime show. When Bruno was just five years old, he sang during the Aloha Bowl halftime. Cute!