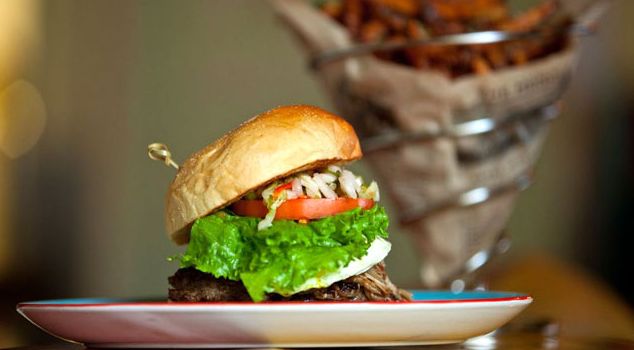 The quiet Garden Island of Kauai saw some changes in 2013, many of which cater to the foodie focused vacationer and/or local. Amongst the developments of the south side and ownership changes of the north shore, some great restaurants have sprouted up, deserving recognition for their great food, unique interiors and Kauai esque ambiance. If you're traveling to Kauai anytime soon, be sure to check out one or more of the restaurants detailed below! We think you'll be glad you did.
La Spezia, Koloa (south side). This restaurant and wine bar is rustic yet contemporary, with a farmhouse style sprinkled into their décor. Fresh flowers in mason jars, wooden wine case furniture and chandeliers adorn this cozy spot, which is located in the former Dali Deli nook of Old Koloa Town. La Spezia is a charming dining getaway from the crowds of Poipu and features house-made pastas, grass-fed meats and locally grown herbs and vegetables, plus fine wines. Their Sunday brunch menu is the best deal in town too- from 8:00am till 1:00pm you can order any dish for only $12. Add an extra $5 and enjoy brunch with a mimosa or bloody mary!
Little Fish Coffee, Hanapepe (southwest). This quaint little cafe is run by locals and has the charming flair of Kauai's laid-back atmosphere. With plenty of outdoor seating, you can order coffee and a light meal and enjoy it in the lazy sunshine of Hanapepe, Kauai's biggest little town'. Bagels with homemade shmears, sandwiches, Little Fish Bowl (yogurt with homemade granola), smoothies, espresso, blended coffee and hand pour drip coffee- what's not to love? A great re-fuel place before or after your adventure to Koke'e or Kauai's westside, Little Fish Coffee is trendy, cute and relaxed.
Merriman's, Poipu (south side). Shifting to a more upscale spot, Merriman's recently opened its first restaurant on Kauai in the new Kukuiula shopping development in Poipu. Casual yet elegant, this restaurant is located on top of it's sister sports bar and café (boasting handfuls of big screen TVs) and is a finer dining option with reasonable prices. Merriman's prides itself on their "Farm to Table" concept, serving only the freshest products with at least 90% of the menu being locally grown or caught, using only sustainable methods. The open-air environment offers guests an incredible view of the sunset, plus Merriman's has the most extensive wine list on the island. Accompany a glass of red with a chocolate purse off their dessert menu and you've got yourself a savory evening on Kauai.
Kalaheo Steak & Ribs, Kalaheo (southwest). Known as Kauai's original neighborhood steakhouse, this restaurant has undergone various owners throughout the years, but has finally landed a local couple that has done wonders for the spot. Completely redesigned and redecorated, Kalaheo Steak & Ribs has a decidedly paniolo (cowboy) feel with a relaxed country-style ambiance. Featuring signature steaks, prime rib and local favorites, you can expect great food and even better service here. Check in on Friday at their Saloon (bar area) for lively karaoke or enjoy live music every Thursday and Sunday and on the last Saturday of the month. Ernie and Caroline will be sure to treat you like family, so come enjoy a laid back evening at Kalaheo Steak & Ribs on Kauai.
Mediterranean Gourmet, Ha'ena (north shore). A wonderful addition to Kauai's north shore dining options, Mediterranean Gourmet is an oceanfront restaurant situated at Hanalei Colony Resort in Ha'ena. A plethora of flavors, the owner has taken special care to create a unique atmosphere and feature cuisines with Lebanese, French, Spanish, Italian and Greek influences. This is a great place for your romantic dinner on Kauai, or a beautiful setting for happy hour in Hanalei (4:00-6:00pm daily). Winning multiple honors from Honolulu Magazine's Hale Aina Awards (2007-2013) we're amazed more Kauai vacationers (and locals!) don't know about it!
Jo Jo's Shave Ice, Waimea (west side). While this plantation style shave ice shop has been around for years, Jo Jo's recently changed locations in Waimea (from Pokole Road to Waimea and Panako Road- kitty corner from the First Hawaiian Bank). Touted as one of the best (if not THE best) shave ice shop on Kauai, Jo Jo's has fluffy ice and tons of tropical flavors to choose from. They are known for their deluxe shave ice with macadamia nut ice cream on the bottom of the cup- a must try if you're new to this island refreshment. Expect a local, laid-back atmosphere with clean, air-conditioned interiors. (You'll be grateful of this if visiting the west side during the hot summer months!).