American Girl Doll of 2011 is from Hawaii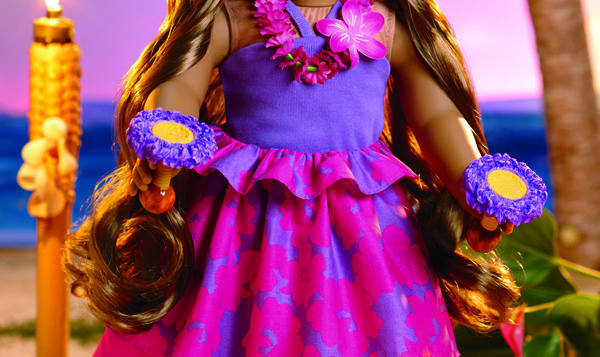 Kanani is the name of a new doll in the American Girl line, the first from Hawaii. This Doll of the Year for 2011 goes on sale January 1 and comes with books that tell her story. Kanani is from the Hawaiian island of Kauai and helps with the rescue of a Monk Seal.
Kanani Akina's story, as told in two American Girl books for 2011, embodies many of the qualities that make Kauai such a treasured place to live and visit, and will resonate with legions of young fans nationwide. Kanani is multi-ethnic, lives happily amidst a close-knit community of ohana (family) and friends, celebrates Hawaii's cultural traditions, cares about the environment, and shares the warmth of her aloha spirit with newcomers.
This comment is from a news release issued jointly by American Girl and the Kauai Visitors Bureau.

As with real children, the cost of the doll is only the beginning — the real expense comes in accessories. In addition to her hula clothing, Kanani has a paddle board (and paddle) with swimsuit and board shorts, and an entire shave ice stand — each sold separately. A plush Monk Seal is also available and American Girl will donate a dollar for each seal sold to the National Wildlife Federation (up to $100,000). The Kauai Monk Seal Watch Program hopes that Kanani's story will also help to raise awareness of the plight of Monk Seals. Hawaiian Monk Seals are the most endangered U.S. marine mammal with an estimated population of 1,200, of which about 10 percent live in the main Hawaiian Islands, with the remainder living in the more remote Northwestern Hawaiian Islands.

There are nine American Girl stores, but none if you are shopping in Hawaii. Those who live outside the major metropolitan areas with stores shop online for the dolls, accessories, furniture, plush toys, scrapbooks, movies and magazine. It is even possible to buy clothing for real girls that matches that of their dolls (twins!). Although my own daughters just missed this phenomenon, I must say it is a relief to see dolls in varying skin tones. I remember hiring a seamstress to make Cabbage-patch babies with tan skin because none of the ones sold commercially came in "hapa" colors. In addition to the Hawaii Kanani doll, others are sold with light, medium or dark skin and a variety of hair colors. If you are somehow unaware of the American Girl culture, take my word for it. This little doll is a very big deal.

Photo Credits: Kanani Photos – American Girl, Hawaiian Monk Seal – Donna Lee